News
A Slasher Queen's wet dream of a monthly club night, hosted in the glittering bowels of Sleazys.
WOVEN SKULL are likely the trippiest necro folk band we've ever heard. From a delicious source :
"Pagan influenced acid-folk druids travel from Ireland to celebrate this night with their gallic brothers and sisters. Mantratic drone and tones from a long forgotten community are psychicly remembered and regaled. "
https://wovenskull.bandcamp.com/
GAZE IS GHOST – "Gaze is Ghost is the pseudonym of N. Irish composer Laura McGarrigle." – This is some dark vibes.
http://gazeisghost.bandcamp.com/
STEINER MUSK – Members of the Cosmic Dead and Happy Meals and E.m.S come together to make free acid folk with acoustic drones, free form echo-flute and sacred sound poetry chants. Unhinge your inner privilege and do indeed fear the reaper.
More information + ticket link HERE
Singles night is the genre-defying dance party, all sourced from 7″ inch singles, by legendary hosts Andrew (DIVINE) & Beans (Belle & Sebastian) and it's coming to Nice'n'Sleazy for the first time TOMORROW!
In the run up to the monsterous CAVE OV MAY punk and grind all dayer at Nice'n'Sleazy on May 7th we're chatting with a few of the bands… and today in the CAVE we have Crawford from Glasgow's hash loving hardcore supergroup Sick of Talk!
Does your name come from the Negative Approach song? What bands got you into hardcore?
It either came from the Negative Approach song or the Infest song of the same name, either way i'm down. It was the original bass player, howling Tam Yanick, that came up with it before he hit a bad one on the hash & went AWOL. He was subsequently erased from the Sick Of Talk history books, not unlike baldy bam Hulk Hogan being pied by the WWE.
I first got into hardcore through bands like 7 Seconds, Slapshot, Agnostic Front, Cause For Alarm & such then fell deep into Cleveland hardcore circa 1995 & my life has been a piece of shit ever since.
What is your current favourite youtube video?
Crank (official video) by Psycho Dalek.
What would Sick of Talk's positive life mantra be?
Be the snout.
What bands are really exciting you at the moment?
Off the top of my weave: Gluerash, Rapid Tan, Anxiety, Rotten Mind, Thisclose, 50% of Droves, Vital Idles, Skiplickers, Disguise, Lost Limbs, Dry Heaves, Obstruct, ZZ Top, Protestor, Bad Noids, Eel, Dame & more but I'm in a post-work funk just now & my brain is glue. There's a new band from Sheffield called Community who have a tape coming out soon, get that tanned. Also, Kriminal from DC are one of the most ripping bands I've heard in time!
Best gig you've seen in the last year?
I was at Damaged City Fest in DC last month & saw too many banging bands to name (Systematic Death twice in one weekend, jerks), but closer to home, we played Lughole in Sheffield with Night Birds the other week & that was nothing short of righteous. Best band, best dudes.
What's next for Sick of Talk?
We're recording a 7″ in the next couple of weeks with Maryhill's very own Teflon Don, Luigi "Liam Gallagher" Pasquini, after which we will continue to fight the good fight. We're touring the UK with Gluerash in October then we'll be off to the mainland at some point shortly after that, provided we all survive October, but that is tentative.
Big shouts for the questions.
Start more bands, this is no time to sleep.
In the run up to the monsterous CAVE OV MAY punk and grind all dayer at Nice'n'Sleazy on May 7th we're chatting with a few of the bands… and the time we chatted to the three-piece Leeds based grindcore darlings – FAMINE.
You're going on a massive UK/European tour with Shackles in July! How're you feeling about it? Are there any shows you're particularly excited for?
Well excited! We haven't done a tour of this length in… well, ever! Shackles are a quality band too so keen to see them killing it every day. Looking forward to playing a few places we've not been before; Budapest and Kosice are standouts for me in that respect. We're also playing 2 Czech festivals which should be well good fun – very much looking forward to playing at 11 o' clock in the morning to one drunk guy dressed as a banana.
How did you get into listening to grind/hardcore? Do you remember any songs in particular that made you think "fuck. this is heavy. and dead good."?
I personally got into it through a combination of Tony Hawk's soundtracks and my brother making me mix CDs when I was in my formative years – spent a long time listening to dad hardcore like Bad Brains and Black Flag, then migrated onto Carcass and Napalm Death as my hair got longer and greasier. The first time I remember hearing the punkier, less big-budget side of grind was Fuck on the Beach's 'Never No Skin Fuck' on a Youtube comp, and I've been hooked on it ever since – it was so simple and the production was so blown out, but it was so catchy and full of energy, and the riffs sounded more like the Bad Brains riffs I'd loved as a tweenager – it was perfect!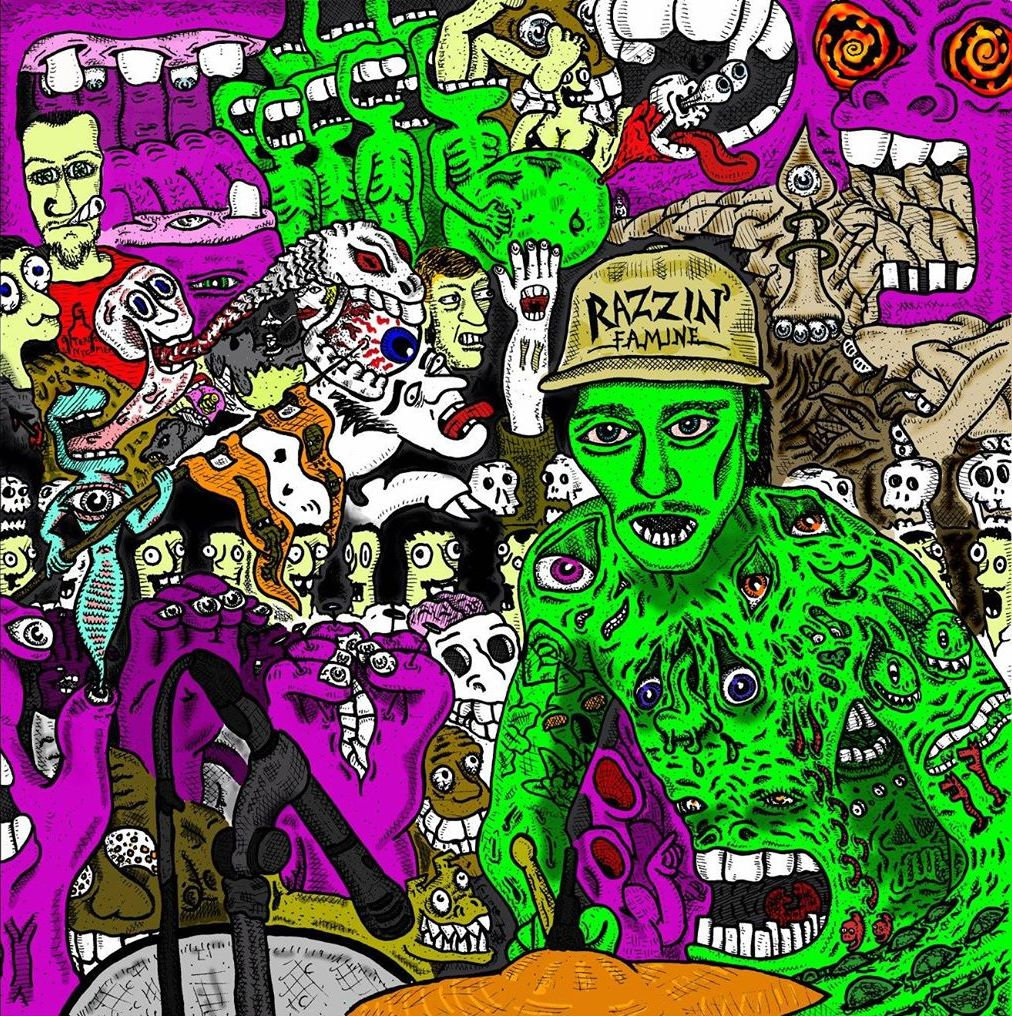 The artwork for your latest 12″ RAZZIN' is sick! How did it come about?
That's the work of our good friend Daniel Hughes – artist extraordinaire
(https://www.facebook.com/DanielHughesArt/), and talented bassist of rockin' bands from the North East (Prolefeed, Winds of Genocide). He's done pretty much all of our artwork since day 1, so we needed his skills once again for our LP. In the tentative period where we didn't have the artwork but we had the tunes, we just stuck a picture of Alex up for Bandcamp. Dan took that original photo and not only recreated it, but added in all the mad stuff which is also going on – there's a lot to take in so it's worth studying! Warren (our vocalist) then sat on his computer and added in all the colour – we wanted something resembling a Funkadelic album in terms of sheer grotesque neon.
You've played our beautiful Glasgow city a few times already (including one gig with Sick Of Talk who will also be playing Cave ov May). What's your favourite thing about coming up here?
The People! And all the things they do. Glasgow has produced so many sick bands over the years (Black Cop, Droves, Herbert Powell), and all of those people are really supportive of what we do and always come down and show us a good time. All the shows have been sick too; we once played in the basement of Plan B Comics which was fucking nuts; it was my first time in Scotland too! Since then, we've played at the 13th Note a shedload of times and it's always been incredible. Some of us are also well into that deep fried haggis butty shop round the corner from the Note – GREEZ.
What's next for Famine?!
There's a Famine/Wan Bushi breakcore flexi on the horizon somewhere, and a split 7″ with the Art of Burning Water coming out soon. We're gonna write some new stuff eventually – we've just come back from a 6 month break though, so we're finding our feet again in terms of playing gigs and such. Having said that, Warren's jumps are as trouser-splittingly high as ever, it's like we never left…
Finally, you're the last band on in the CAVE OV MAY. What's the song you would most like blasted through the PA once you're done wrecking?

The Birdy Song by The Tweets; the chorus makes me want to put my limbs in the air.
In the run up to the monsterous CAVE OV MAY punk and grind all dayer at Nice'n'Sleazy on May 7th we're chatting with a few of the bands… and this time we got to chat to the two-piece riot grrrl band Bratakus!
How long have you been playing as Bratakus for?
We formed early 2015, so we've been playing for about a year now. Our first ever gig was at the Girls Rock Glasgow fundraiser in June last year. It was really fun and opened up a lot of opportunities for us. We felt really supported by all the different female artists in the Glasgow scene which has been great.
What's been your favourite gig?
Oooh, that's a hard one. We had a lot of fun at Girls to the Front Festival last week! It was really good to see people up dancing and enjoying themselves, it was great to share the stage with so many groovy bands and meet so many amazing people. So that would definitely be one of our favourite gigs we've played. We also really enjoyed our gig in Leeds which was one of our first times playing in England. Everyone was really nice and again, we played with a lot of really great bands (Including F.A.L.C. who are another all girl band) and met a lot of cool people.
How do you enjoy growing up in the Highlands and living there now? Do you have any plans to move?
We really like living where we do. We have alot of friends here, and there's a big Home Ed community. (Also, If you live in the middle of no where no one cares if you practice really loud!) So, no plans to move right now 'cause we can get to Glasgow really easily on the bus to see people and play gigs!
You both have amazing style on stage! How important a part of your performance is it? Do you take inspiration from anything/anyone?
Thank you. We wouldn't really say it was an important part of the performance since it's just how we dress really! Quite often I (Breagha) don't take inspiration from anything in particular, I just like wearing silly clothes becuase I think people take clothes far too seriously most of the time. I find it very funny to see people's differing reactions when you dress like this aswell. I would say I am inspired by people like Poly Styrene (X-Ray Spex) and Vince Noir (The Mighty Boosh) though!
I've read your song "I know nothing" (which has an amazing video) is partially about veganism. How long have you been vegan and do you have a favourite recipe?
Yes, It's about Veganism/Feminism/Straight Edge/Home Education/pretty much all our political beliefs and people's reactions when you tell them you do/are those things, haha. We have been vegan for coming up to 5 years now, but we were vegetarian all of our lives before that. We have far too many vegan recipes, because we basically veganise anything humanly possible. If you go round our family we all have different vegan recipes for everything (Our Dad has veganised an entire fry up!) so we could write a very long list here, but I suppose one of our favourites has to be a recipe for vegan Toffifi I found on the internet. It's a long and cumbersome process, but it's so worth it!
Which bands are you most excited about at the moment? 
We are very excited for The Julie Ruin's new album! We love the song that's been released. We're also very excited about Spat – Who are a great Scottish female fronted band from the borders. We're playing with them at their album launch on the 14th of May which we're really looking forward to, The Twistettes, The Fnords, and all the amazing bands who we got to see/meet at Girls to the Front Fest. Also, Brain Anguish (Coming Soon), Joyce Delaney, Tuff Love, Bis, Killer Bangs, Velveteen Riot and Brian Curran (He's not a band, but we're still excited!)
What's next for Bratakus?
Who knows, we're just about to put out a fanzine, more gigs, another mini tour, possibly an album, or maybe we'll just retire and sit on a porch somewhere playing the banjo in cowboy hats!
In the run up to the monsterous CAVE OV MAY punk and grind all dayer at Nice'n'Sleazy on May 7th we're chatting with a few of the bands… and this time we're talking to acoustic punk Brian Curran!
You've been described as a "veteran" of the Scottish hardcore scene, having played in bands like Thisclose, Quarantine, Disaffect, Ruin, Debris and Scatha (and more!) over the years. Are there any particular gigs or tour moments that stick in your mind? 
Ha-ha. I find being called a veteran an interesting concept as when I got into the punk thing in Glasgow I was seen as part of the 2nd wave, i.e. the young kids.  I have been lucky to be involved in bands that got to be part of something that was so much more than music and got involved in a network/community of like-minded people and I have made lifelong friends out of being a part of the punk/hardcore/DIY thing.
There are plenty of great gigs and moments that have happened over the years of playing in bands.  All in all I would say good rather than bad.  I don't think I ever played in a band where the band was more important than our friendship, so tours were always fun events where we found ourselves in some interesting situations.  Too many best gigs to actually nail any down so I'll put down some bullet point highlights that I remember
A bird flying into our van window and smacking our singer in the face/eye whilst doing about 80mph
Getting stripped searched at the Swiss border
Playing in a greenhouse in Wroclaw with Quarantine with a guy stirring the food with a tree (i.e. still had moss on it and stuff) beside a table with a hole in it with a bin bag nailed to the rim as the toilet with a sign saying "No piss – only shit". Don't know if that's even possible?
Being refused entry into Germany from Poland and then driving to the next border crossing, getting out the van and walking across the border from Germany into Poland, standing waiting then getting back in the van once that came through.
Drinking with Witchknot around a big table in Gottingen
Mostly the highlights have been meeting people and knowing that you are a part of something that is bigger than your wee band and that we were trying to build an alternative community (I still believe in this last bit as the sole reason as to why I play music)
While you've been playing in hardcore bands over the years have you also been writing folk/punk songs, or did they just begin with the acoustic project?
Not at all.  I was always playing in bands from around 86 or something and as time progressed it was getting harder to be involved in projects with other people due to time restraints, family/work commitments for myself as well as others.  I wasn't playing in a band at the time and as I just became a dad I was trying to play guitar a bit quieter in the house.  I bought an acoustic guitar with that sole intention and had no plan to play live at this stage, although I have always been writing songs for myself, whether anyone else hears them or not.  Some friends were getting together to do a reunion tour and I wanted to be a part of it and from more than a spectator point of view, so I asked if I could tag along and seeing as they were life long friends they agreed.  So I played some acoustic gigs and then did nothing for about 2 years after that. However,  I found that I enjoyed it and went on from there I guess and started doing it a bit more seriously from around 2012.
Your last EP which came out in December was the third in a trio and the longest in length! Have you found you've been writing more songs or more quickly lately?
Actually some of the songs on that were written before I even recorded the first one and the 2nd EP was recorded about a year before the 1st one.  It's odd how that happens.  I always have music going around in my brain, so I'm always messing about with tunes and lyrics.  I think for the 3rd EP I just wanted to get the last of the songs I had lying around recorded and finish the trilogy, so the fact that the last EP is longer is accidental more than anything else.
The trio of EPs is themed around and named after the "Triad of Impairments" experienced by people living with autism and was influenced by your son's experiences of growing up with autism. How have the reactions been to this?
To be honest the reaction has been met with a mixture of "that's great" to "what a bizarre cryptic title…….what does it mean" to not much reaction at all.  I'm happy with what I've done though and friends and other interested people seem to like what I am doing and I have had some fairy generous donations from people who bought the EPs. So I have no complaints.  Its good to get awareness of autism out there and Scottish Autsim's help line was a great way to get pointers for help making visual schedules for Max as well as an avenue into finding out about services that can provide help. I am happy to have contributed  to that in this little way
What bands are you most excited about at the moment? 
There's lots of good stuff happening at the moment it's a pretty good time I think for DIY music in general.  I love Petrol Girls, they remind me of the good old days of 90s hardcore, like Lost World or something. Bratakus are awesome, Sick of Talk, Pig//Control and have you heard Joyce Delaney? They're great!!  Lots of good shit happening. I also like my acoustic stuff of course like Tim Barry, Efa Supertramp, Mark Ayling and Chrissy Barnacle.
What's been your favourite gig of the last year? 
Favourite gig of last year, don't know probably my own gigs in Tenerife and Knoflook in Den Bosch.  Best gig I was at would have to have been as toss up between Tim Barry, Poison Idea or Negative Approach.
What's next for you?
What's next.  Well I'm playing Manchester 0161 Fest in Manchester this weekend, then I have the gig in Sleazy's on 7th May with Active Minds and loads of other good bands.  Then its off to the Canary Islands again.  After that, I have some sporadic gigs here n there (I always find it quite hard to get gigs for some reason).  Ive been writing stuff on the guitar and putting words down somewhere so I might get something recorded before the year's out.  I'm always looking for gigs though and to get playing.  I am fairly nice house guest, who may talk a little too much, but I'm house trained at least. That's about it I guess.
In the run up to the monsterous CAVE OV MAY punk and grind all dayer at Nice'n'Sleazy on May 7th we're chatting with a few of the bands… and this time we're talking to the Aberdonian powerviolence trio BOAK!
You're heading out on tour with ACXDC from america in June!! How did that come about, and are there any parts you're particularly excited about?
ACxDC's been one of Ben's favourite bands for donkey's. So when Ewan found out they were playing Temples and touring the UK, he got in touch with them about an Aberdeen date, but then just ended up seeing if we could join them for the tour. They said yes, and we all got giddy. Really looking forward to Leeds, cos its the UK's capital of fast. Also looking forward to playing places I've never been like Hull, Nottingham, Bournemouth, Plymouth and Brighton.
Does hailing from Aberdeen affect the band's identity? How's the scene in Aberdeen?
Don't think it affects our identity its more just a pain in the arse cos we're so far North. So most touring band gigs which we'd love to see/play are at least a 3 hour drive. Getting to England we're looking at least 5 or 6 hours, and Ben's the only one that drives, so that can be a hassle. The scene in Aberdeen is grand. Downstairs is a great venue, as are some of the others dotted about. Quite a few different promoters keep it varied so theres plenty of gigs usually. Shout outs to the promoters Aberdoomed, Laika Come home, WDWDI?, Interesting Music Promotions, Headache Music and big up myself, Deeablastminyas. Hopefully I didn't forget anyone, if I did, sorry, didn't mean it.
I adore your instagram handle BOAKfast – but I need to know, is this a sick reference to buckfast or breakfast or both????
Play on Buckfast really. Which fits cos we like playing fast, so it worked really well.
Both BOAK releases to date feature as the artwork pretty graphic images of animals getting their revenge. To what extent are animal rights a part of BOAK? How did you get into animal rights?
Ben and I are vegetarians and Ewan is a vegan, so we all support animal rights. While not all our lyrics are on that topic, quite a few are, mainly cos its a shared interest between us all. We all got into them independently, and mainly for the most obvious reason; we believe that killing animals needlessly is wrong.
What's the best gig you've seen recently?
Playing Leeds with Razoreater, Floor Drugs, Lugubrious Children and Hot Cops in Chunk. That was ace. BYOB, loads of heavy fast music, then afterwards had an Angerfist-gabbah-dance-like-a-wobbler party. Pretty much the perfect gig.
What songs are the current contenders for BOAK's 2016 summer jam?
Recently been listening to Lucid Sins – Occultation, The Kill – Kill Them…All, Mos Def & Talib Kweli – Blackstar, Angerfist's Defqon 2015 liveset, Doomtree – All Hands, Famine – Razzin'. Ben's are Lil B and Chief Keef, and the new Weekend Nachos album that'll be out in July. Ewan thinks all our summer jams are shite.
What's next for BOAK???
As already mentioned, we've a 2nd 7″ coming out in May on SuperFi Records and Grindpromotion Records, then touring with ACxDC in June. Chimpyfest in London and Heavy metal Buffet in Shetland in August, split 7″ with Deadbeat from the USA on Grindpromotion Records and To Live A Lie Records out sometime in Autumn, and touring Europe in October/November time. Yes come on.
Yessss come on indeed! Check out BOAK, and their summer jam contenders Famine, along with SURGE (IRE) + MANTILLA (DNK) + SICK OF TALK + RAPID TAN + ANXIETY + BRATAKUS + BRIAN CURRAN this May 7th at Nice'n'Sleazy for 
CAVE OV MAY!
In the run up to the monsterous CAVE OV MAY punk and grind all dayer at Nice'n'Sleazy on May 7th we're chatting with a few of the bands… and first up is the extremely charming Glasgweigan jingly post punk supergroup (members of Breakfast Muff, Spinning Coin and Herbret Powell) RAPID TAN.
What was the moment of genesis for Rapid Tan?
We started in like the beginning of May 2015, oringally we were supposed to be like a 5 or 6 piece I think. Craig Struthers of Flakes/Snake Eyes fame was meant to play drums and I (Taylor) was going to sing, but then we booked our 1st practice and Craigy couldn't make it so we just had a jam with me on drums and we wrote a song and liked the line up as it was. So we told Craig to fuck off and now we've got like 6 songs
What most inspires the sound of Rapid Tan?
It's a just big mix of loads of good stuff really. Me and Billy originally wanted to do a band that sounded kinda like Number Girl & Thinking Fellers Union Local 282, but it didn't really end up sounding that way. Cal & Eilidh only really listen to the old Doctor Who soundtracks on picture disc, and I think that comes accross quite strongly in our music.
Your namesake, the original "Rapid Tan" tanning shop, was taken over by the heartbreakingly inferiorly named hair salon called "ROOTZ" last year. How did you react to the news?
Well I couldn't believe it personally. Very upset by it, as I'm sure everyone else was. It's not every day you find something to care about so whole-heartedly, and to see something so beautiful and pure, stripped of it's beauty and ruined in the blink of an eye… It's very sad. Me and Eilidh actually tried quite hard to get a hold of the old sign for Rapid Tan, we knew it was shutting down so we took a note of their number and tried phoning them to ask if we could have it, but every time we phoned them up they were closed and in the blink of an eye it was gone.
Is there a concept behind your new EP "Wonderful Special" and when will it be released?
It's really just about yin and yang really… Good vs evil… bad vs nice… tall vs small… sweet vs sour… hemp milk vs almond milk… tangy cheese doritos vs chilli heatwave doritos… coke vs diet coke… mcondalds vs burger king… australia vs USA… the simpsons seasons 1-9 vs the simpsons season 9 onwards… coke vs pepsi… seinfeld vs friends… kfc vs chunky chicken… you know what I'm talking about… the things that make us human. It will probably be released in the middle of May
Rapid Tan recently did a DJ set after The Intelligence gig in Nice'n'sleazy. What was each of your favourite songs to play?
Billys favourite was either Damaged Goods by Gang of Four or Lean Back by Terror Squad, Eilidhs was Dancing With Myself by Billy Idol (or "Billy Elliot" as I like to Call him), mines was Black Betty by Ram Jam, and Cal just kept saying "I hate songs" and going behind the curtain to sleep.
What are Rapid Tan's plans for the rest of the year?
We're going to try become famous and get really rich probably. That's always on our minds constantly. We just want to travel the world and see the likes of "New York City" and "Las Vegas", and we will stop at nothing to achieve this dream. We are trying pretty hard at the moment to get an endorsement from Ibanez, because we love how their guitars both look and sound, they are loud both sonically and visually, and they "pack a punch". We want to be the first band to play in the oval office to the president of America. Hopefully we will be able to do all of this (and more) in 2016.
Best of luck Rapid Tan!  See you in the CAVE!!!
Catch Rapid Tan along with FAMINE(ENG) + SURGE (IRE) + MANTILLA (DNK) + SICK OF TALK + BOAK + ANXIETY + BRATAKUS + BRIAN CURRAN for £6 ON MAY 7th AT NICE'N'SLEAZY.