KUUNATIC + Tights (Early show) - 6th September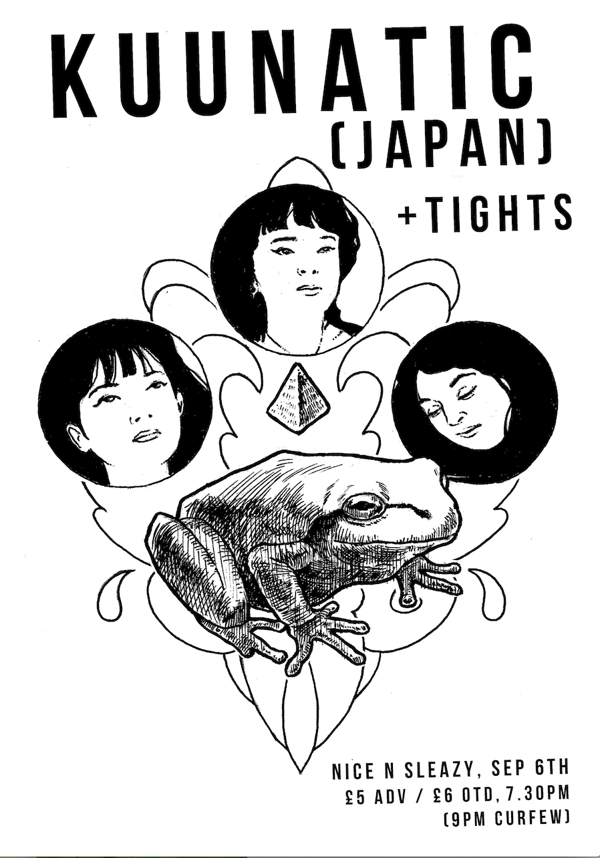 KUUNATIC
KUUNATIC was formed in Tokyo in 2016, by 3 female members who have completely different musical and cultural backgrounds. Their first EP KUURANDIA integrates traditional Japanese music, Latin music, progressive rock, psychedelic rock, dub music, horror film soundtrack music etc and expresses their outlandish world created out of impulse. They explore primitive drumming, pulsing bass lines, atmospheric keyboard sounds with Japanese local instruments. Topping with 3-female vocals, its music makes listeners trip into their ritual translunary land.
https://kuunatic.bandcamp.com/album/kuurandia
https://www.youtube.com/watch?v=NooZvkCrCGI&feature=youtu.be

With support from

TIGHTS
They took Doune The Rabbit Hole festival by storm this year with their new wave of improvisation and minimalist composition. At times feral, at times meditative but fear not, they are always TIGHTS.
https://www.youtube.com/watch?v=u6GpHxo3PUg

Get in there quick.
DUE TO EPIC GIG CLASH, THIS EVENT WILL BE FINISHED BY 9PM. MAKE IT HAPPEN. THEN HIT BLOC FOR SSS.