Nice N Sleazy presents:
A Very Sleazy Xmas : Second Hand Marching Band + Little Love & The Friendly Vibes + Songs of the Old Country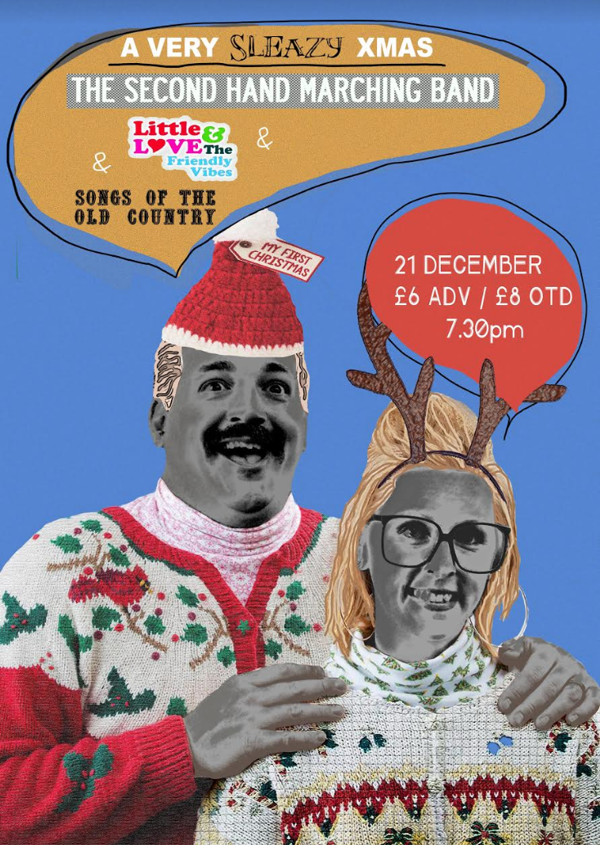 Huzzah! We're going to have a VERY SLEAZY XMAS and the following absolute treats are very much in the store :
SECOND HAND MARCHING BAND : The super grand reformation of Glasgow's greatest ever 30 member band. Ultimate goodness.
https://www.thesecondhandmarchingband.co.uk/
Little Love and the Friendly Vibes : A wonderfully uplifting outfit from the East Coast who blend B52's, Modern Lovers, Rezillos and Monkees. Featuring some of yr favourite east coasters!
Songs of the Old Country : The star of every house party in glasgow since the Halt Bar Hijack went up in smoke. Douglas Murdoch embodies a very special kind of folk tradition. The main goal? Fun!
ALL PROFITS TO SAMH. ADDITIONAL DONATIONS WELCOME.
Line Up
A Very Sleazy Xmas : Second Hand Marching Band + Little Love & The Friendly Vibes + Songs of the Old Country