Nice N Sleazy presents:
Adult Dolls + Slix + Permo
Buy Tickets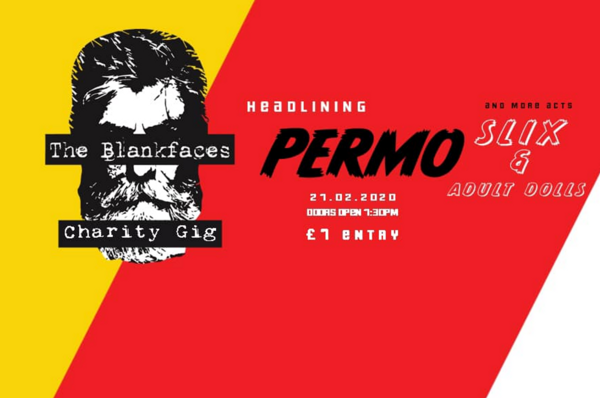 Introducing The Blankfaces Charity Gig Event, the event aiding your community that you don't want to miss!
https://www.eventbrite.com/e/the-blankfaces-charity-gig-tickets-92225676481
In aid of The Blankfaces, an enterprise dedicated to ending homelessness; the night will be packed with entertainment with performances from PERMO, SLIX AND ADULT DOLLS.
Come along to Nice 'N' Sleazy on the 27th of February to support The Blankfaces and help end homelessness in Glasgow.
Describing themselves as "rough and dirty", Permo will be headlining The Blankfaces first charity gig to support our worthy cause. Permo's debut single, "Bloodlust", has accumulated 5,165 streams since its recent release at the beginning of 2020.
The three-piece band will be supported Slix and Adult Dolls, two up-and-coming punk bands with big things coming soon in 2020.
Slix would describe themselves as "jingly jangly boys from Iverclyde making music to commit tax fraud to" (we wouldn't encourage fraudulent activity, but the money saved would be much appreciated in donations on the night!). Their EP "Chongawongabonged" has reached 4,177 streams since the release in 2019.
Adult Doll are a Glasgow-based punk band that are relatively new to the scene, yet they have effectively accumulated a loyal group of fans in their short time performing together.
Support your local community and come together to raise funds by joining some of your favourite local artists at The Blankfaces Charity Gig Event.
Line Up
Adult Dolls + Slix + Permo