Nice N Sleazy presents:
Carmen Thorburn + Ria L. Todd + Christopher Downie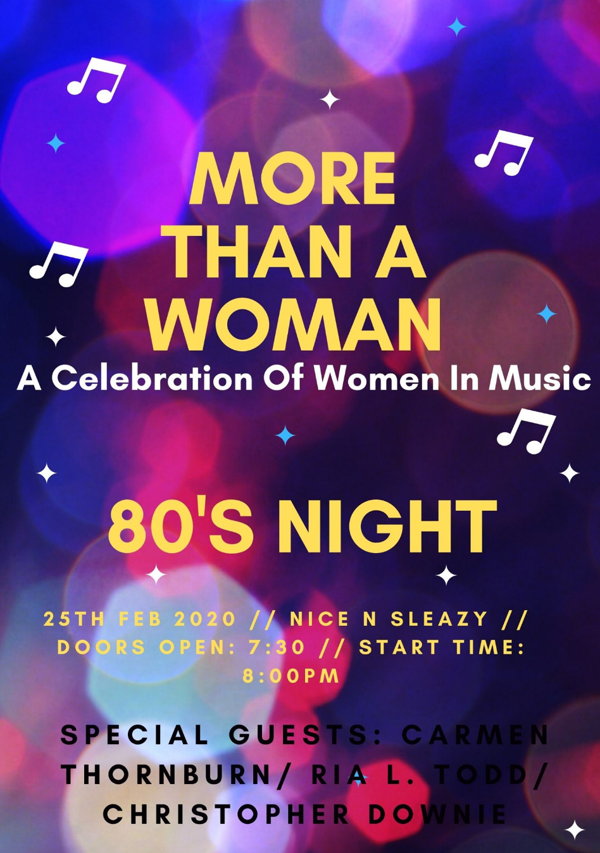 https://www.facebook.com/events/179066706534016/
More than a woman is about celebrating some of the most famous and influential women in the music industry, to glorify their success and musical creativity.
So come on down and listen to Carmen Thorburn, Ria L. Todd and Christopher Downie play tribute to these famous legends beginning with "80's Night" featuring some of the greatest hits of the decade on the 25th February 2020 at Nice N Sleazy.
Carmen Thorburn
Carmen Thorburn is a training vocalist and performance artist who has moved from Barcelona to immerse herself in Glasgow's thriving music and performance environment. Mastering Catalan, Spanish and English, Carmen performs in a range of World Music styles including Flamenco, Soul and Jazz. Thorburn captures the hearts of audience members with emotional performances and leaves memorable impressions due her physically active style of musical delivery.
Ria L. Todd
Began playing piano by herself on an old piano procured from a car boot sale when she was very small. It was out of tune, yet she played it every day until her family could afford a better one. After learning to read the notes she soon learned more complex pieces by the likes of Mozart and Beethoven. She was in a band last year playing keys and performed at the Classic Grand. She regularly takes part in Kirtan which is a gathering similar to a gig where mantras are sung as a form of meditation. Ria is also a vocalist and guitarist.
Christopher Downie
Christopher has performed to a wide variety of audiences at various music venues across Glasgow and the Greater Glasgow area. He played for Celtic Music Radio on two occasions, playing full sets that have been broadcast over the greater Glasgow area.
Christopher is influenced by many genres including musical theatre, pop, rock and folk. Styling his vocals and performance after leading roles in musicals such as Dear Evan Hansen and Hadestown, he has developed his voice to meet an eclectic variety of music.
Christopher regularly records and promotes music online and throughout the country, all while completing a Higher National Diploma in Music, also developing a keen interest in teaching.
Line Up
Carmen Thorburn + Ria L. Todd + Christopher Downie