Nice N Sleazy presents:
Crossfire / Ifreann / Tempered / Night Fighter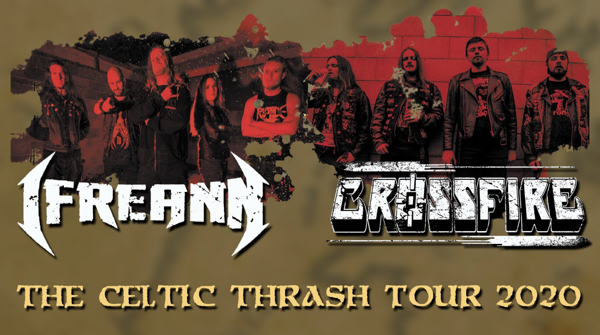 CROSSFIRE & IFREANN bring their 2020 UK/IRE tour to Glasgow this February.
Formed in 2013, CROSSFIRE have spent the last six years steadily building their reputation as one of Ireland's top thrash metal outfits. Releasing the EP 'Bound in Skin' and single 'Who Goes There?' in 2018, they combine sci-fi and horror lyricism with what has been described as "brutal, neck-snapping thrash"; pummelling, technical metal creating a sound reminiscent of the golden age of the genre, catered to the modern metal landscape.
https://www.facebook.com/Crossfirebandthrash/ https://www.youtube.com/watch?v=kuRqDCc_otc&t=559s
IFREANN, Edinburgh Thrashers return to York this time headlining alongside Irish Thrashers CROSSFIRE.
Formed in 2015, IFREANN have been gigging none stop for two years, and released their debut EP ' Unearthly' in January 2019. Ifreann combine old-school Thrash ferocity with new-era attitudes to create a unique and pummelling sound. This show will co-inside with the release of Ifreann to-be-announced second EP.
https://www.facebook.com/IFREANN.THRASH/ https://www.youtube.com/watch?v=vtDMJFgGyJE
** WITH SUPPORT FROM **
TEMPERED - CST Glasgow kings, Tempered will bring their relentless Thrash Metal Assault to Nice N Sleazy in February.
https://www.facebook.com/TEMPEREDGLASGOW/ https://www.youtube.com/watch?v=Gik5NLGj3Dc&t=9s
NIGHT FIGHTER - Blackened Speed newcomers, armed and ready to curse the stage with their ferocious might!
https://www.facebook.com/Night-Fighter-107806670621943/ https://www.youtube.com/watch?v=FYIcCt1pLHU
Line Up
Crossfire / Ifreann / Tempered / Night Fighter