Nice N Sleazy presents:
TUPPER WEREWOLF vs VIDEO NAMASTE (live visuals) + RAZA + SLIME CITY + THE SERIOUS ADULTS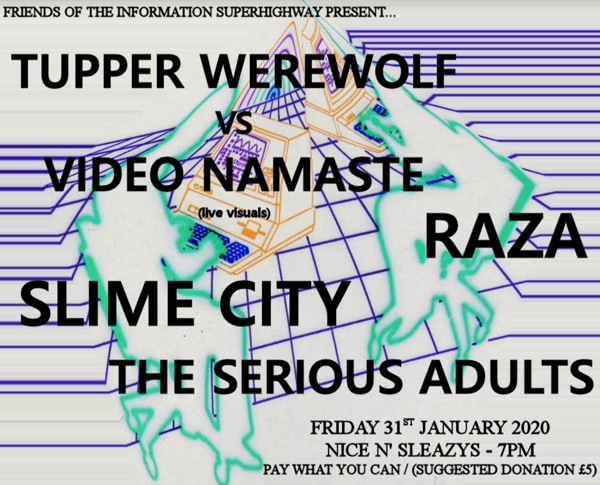 TUPPER WEREWOLF vs VIDEO NAMASTE : Something a little bit special as Tupper Werewolf launches some new music into the world, cult -film dorks and all-round champions Video Namaste will be cutting and chopping their favourite bits of media and splattering it over a screen to complete a full sensory experience. You might also get a wee taste of something delicious from Video Namaste. Tupper Werewolf is an electronic, hyperactive carnival of sound. Tupper Werewolf has been described as a technicolour dream sequence. Tupper Werewolf wants to make you dance. Tonight will be releasing a body of work entitled Flavour Country for your enjoyment.
For Fans of: Animal Collective, Dan Deacon, Holy Fuck, LCD Soundsystem, Four Tet vs Fans of: Laser Disc, Schlock Horror, CyberPunk, Krull, U2, Stone Cold
https://tupperwerewolf.bandcamp.com/
https://twitter.com/videonamaste
RAZA : The kinetic cosmopolitan electro-pop instrumental duo comprising synthesisers and programming guru and trumpeter Gav Thomson and drum ninja Bertrand Auguste Model. A heady bend of wonky electronic jiggery pokery and Afrobeat, Gamelan and Brazilian-groove inspired percussion For fans of: Douglas Adams, Congotronics, Deerhoof, Stereolab, Squarepusher https://shiftcmds.bandcamp.com/album/futuramayana
SLIME CITY : SLIME CITY come from Glasgow, Scotland and play fast, existentialist nerd rock for people who like both sighing and fighting.
After the release of their latest single which celebrates the inevitability of death, 'You & Everybody That You Love Will One Day Die' (called 'the sound of the summer' by BBC Scotland), they embarked on a short tour with cult rock legends MCLUSKY on which they screamed odes about dial-up internet, having no money, and Jools Holland, all the while playing a shoe that sounds like a broken Nintendo.
For fans of: brainiac, weezer, nada surf, wire, suburban lawns, devo, flat worms, sparks, future of the left, sparks, refused, pixies, idles, art brut
https://slime-city.bandcamp.com/
The Serious Adults : Kirkcaldy's finest sons, parachuting in from the Kingdom of Fife to serve you a fizzy electro-pop kiss on the mouth. Infectious, melodious, utterly dancable. You will clap your hands, and you will like it. RAITH ROCKERS. TOTAL KDY. ADULT ROCK. SOLUTIONS.
For Fans of: Devo, B52s, The Unicorns, Buzzcocks, They Might Be Giants
Line Up
TUPPER WEREWOLF vs VIDEO NAMASTE (live visuals) + RAZA + SLIME CITY + THE SERIOUS ADULTS