Nice N Sleazy presents:
Slim Customers + Kidney Flowers + Casual Drag
Buy Tickets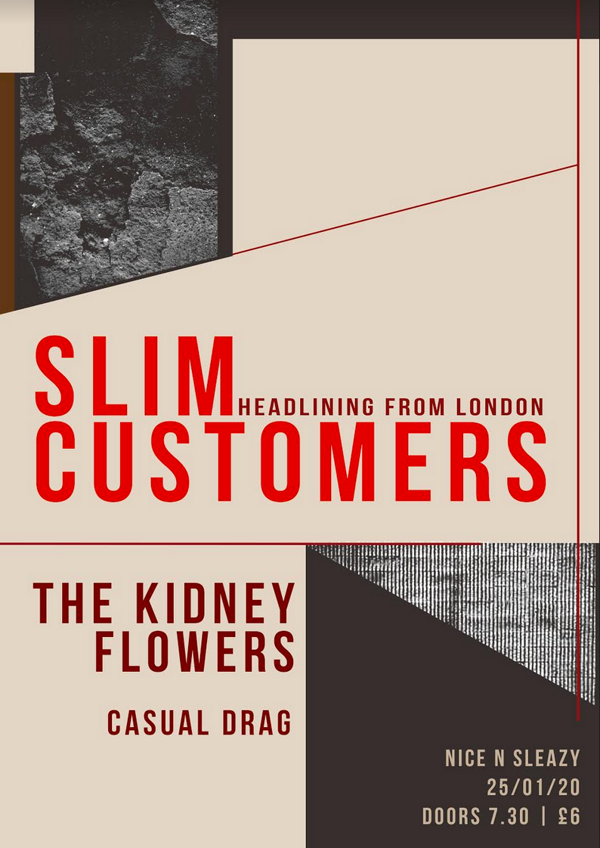 A night of dark destruction: Slim Customers hail from London bringing their stark and beautiful psychedelic music, hypnotic bass grooves and motorik beats all chanted over by shamanic high priest smashing shards of noise across the soundscape. Their new album Hospital in Heaven was released July 2019 https://kinglemon.bandcamp.com https://www.facebook.com/slimcustomersclub
The Kidney Flowers : a primitive DIY garage punk 3 piece, originally inspired by the early beat groups of the 1960s. Stripped back thumping drums, infectious driving bass and abrasive guitar. Think Gun Club/The Fall/The Stooges. There may also be a synth depending on their mood! Their debut self-titled album was released on vinyl early 2019. https://thekidneyflowers.bandcamp.com/
https://www.facebook.com/thekidneyflowers/
Casual Drag : Newly formed garage-punk trio established in Edinburgh 2019. These three homely boys are causing a stir in the stagnant Edinburgh music scene with their songs about isolation, dissatisfaction with modern life, regret, lust and hate. Championed by the likes of Vic Galloway, Jim Gellatly and Tom Robinson's Freshnet. https://www.facebook.com/CasualDrag/ The single "Isolation Island" has been released on Spotify, go check it out!
Line Up
Slim Customers + Kidney Flowers + Casual Drag