Nice N Sleazy presents:
Clusterfuck Circus: BURNS(when ah pee at)NIGHT
Buy Tickets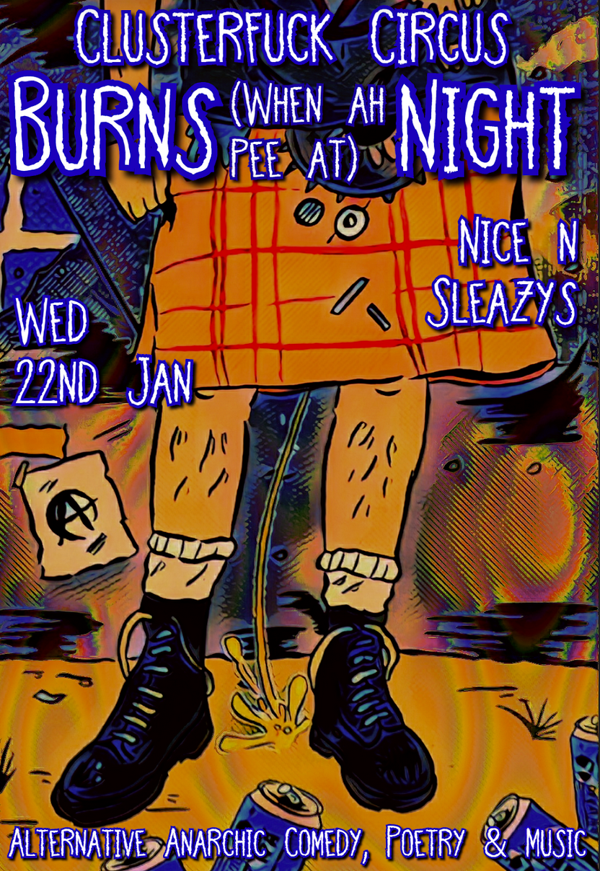 Alternative Anarchic Comedy, Poetry & Music!
The infamous Circus is back for another night of alternative comedy carnage!
This month we celebrate aw hings pure dead Scottish n aw that
A crazy cornucopia of comedic characters of various different styles showcasing what 'Scottishness' means to them, for a mixture of Scottish themed Comedy, Poetry and Music!
Kamihamiha! The Pure Gallus Joe McSloy Derek MCluckie Jim Hobbit Nob Stewart Gordon Powrie Ham McDhól BAMPOeT Raheil Ahmad Thomas Craven Iain Pringle Andrew Neary Lesley Murray Lawrence Tucker James Gardener Scott Forbes Dan Rantin Shell MC Tubz DJ Dave Null/Void & MC Oliver Pissed
Line Up
Clusterfuck Circus: BURNS(when ah pee at)NIGHT