Nice N Sleazy presents:
MOC Presents: VENUS (Leeds) + Fauna & Tongue Trap
Buy Tickets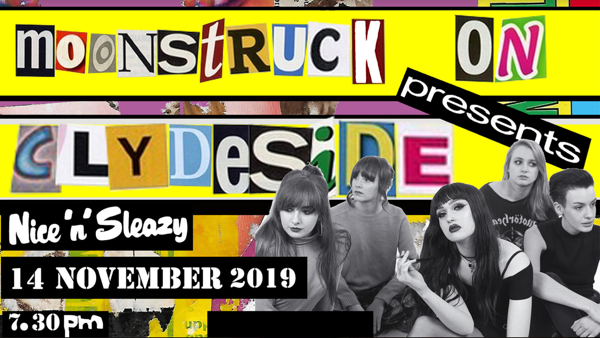 Leeds' coolest ladies are coming to Glasgow. And we're thrilled to be providing a home for their first ever Scottish outing. Shieldmaidens of feminism and activism, VENUS deliver a dose of shimmering glam through a heavy sheen of grrrl rock. Think Heart and Blondie... through the lens of Kathleen Hanna. 🔥
Their newest single 'Sour' is a playful romp through classic rock with a fervent modern edge: open.spotify.com/album/63MbGuASmzC1kif6tT5UCF
Support for this show comes local Glasgow favourites FAUNA and Tongue Trap -- two rising starts making huge waves on the front of Scottish feminism and activism in their own right. Moonstruck is thrilled to host this killer lineup. 🔥
£7 TICKETS go on sale WEDNESDAY 11TH SEPTEMBER at 10AM.
NICE N SLEAZY | 7.30PM DOORS | 18+ ONLY
Venue / Promoter reserve all rights on entry. Poster Design by Louis Small.
Line Up
MOC Presents: VENUS (Leeds) + Fauna & Tongue Trap