Nice N Sleazy presents:
Clusterfuck Circus: The Funpowder Plot
Buy Tickets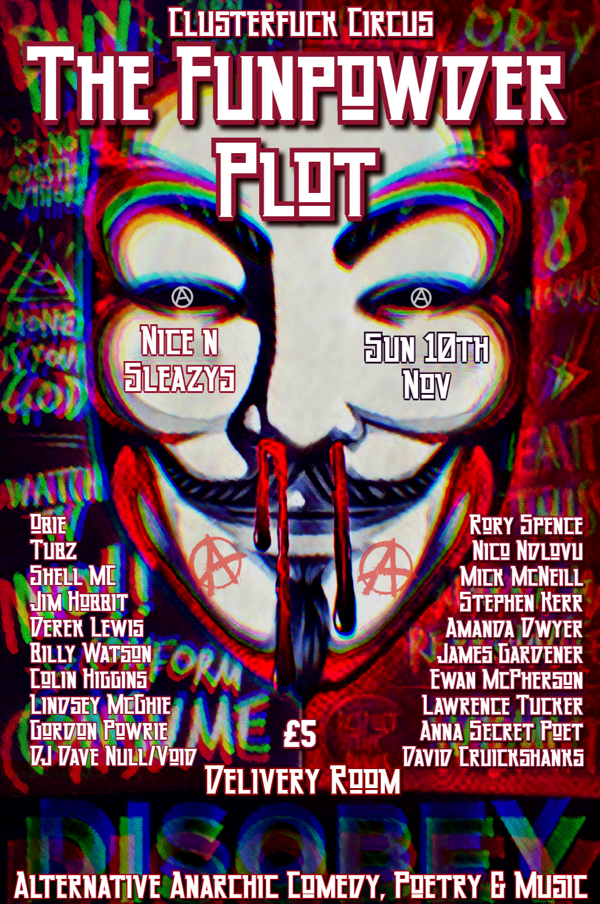 Delivery Room Obie Tubz Shell MC Jim Hobbit Derek Lewis Gordon Powrie Lindsey McGhie Billy Watson Colin Higgins Mick McNeill Stephen Kerr Rory Spence Nico Ndlovu Amanda Dwyer James Gardener Lawrence Tucker Ewan McPherson David Cruickshanks
Plus DJ Dave Null/Void
And Host Oliver Pissed
Doors: 19.30pm - Show: 20.00pm
£4 (eventbrite) £5 OTD
https://www.eventbrite.co.uk/e/clusterfuck-circus-the-funpowder-plot-tickets-77141114149
https://www.facebook.com/events/518205778743137/
Alternative Anarchic Comedy, Poetry & Music
The Clusterfuck Circus presents..
The Funpowder Plot
Remember Remember the 10th of November!
This month the theme of the evening is Rebellion for Fawkes sake!
A crazy cornucopia of non conformists in a no rules, anything goes, night of comedic carnage!