Nice N Sleazy presents:
Hollow Illusion + The Elephant Men + The Bikini Bottoms + T.P.ES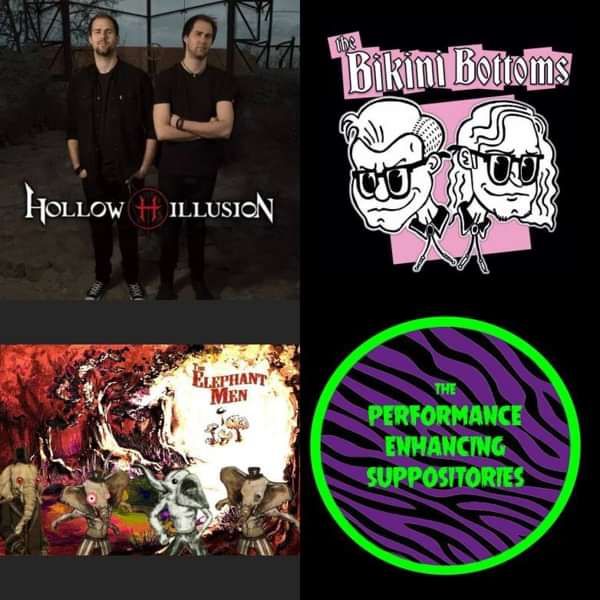 Hollow Illusion (Norway)
Hollow Illusion is a duo rock band, from Stange,in Norway. The line up consists of Magnus Mikkelsen Hoel- ( Lead vocals and Drums) and Ove Mikkelsen Hoel (Bass and Backing Vocals).
Crafting a sound that takes influence from bands like Metallica, Black Sabbath and Thin Lizzy. Hollow Illusion released their debut album the 12th of February of 2016 ,entitled 'Hollow Illusion'. The record is produced and engineered by Trond Hotler (Dream Police, Wig Wam, and Jorn). The record is mixed by Roy Z ( Judas Priest, Halford, Bruce Dickinson) in New York, USA, and mastered by Andy Horn in Ahorn-Berolzheim ,Germany.
The Elephant Men:
Glasgow based 4 piece band consists of :
Roddy Martin - Bass/Vocals, Terry Martin - Vocals/Guitar, Allan Drysdale - Drums Gordon Jarvie - Lead Guitar
Playing equal parts Rock, Metal, Punk, creating the mother of all cacophony! Terror and amazement await you!!
The Bikini Bottoms:
The Bikini Bottoms are an idiosyncratic rock n' roll duo from Glasgow in the UK, playing a signature mix of surf-rock, garage, punk and psychobilly at breakneck speed.
The Performance Enhancing Suppositories:
Nothing is safe! You're all potential targets along with everything you believe in! We're shitting all over your labels and smashing barriers imposed upon music by the dumbed down majority! What's more we do it with HUMOR! If you want a lame, modern Rock band singing love songs or a sad conformist band from the now tamed and boring world of Punk Rock you are on the wrong page! We still play Rock 'n' Roll properly: in other words we piss people off by being us and having fun! We're also not bad on our instruments...