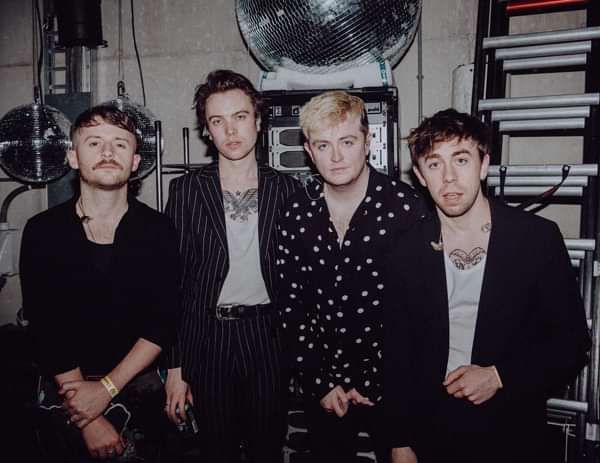 Buoyed by the success of 'All That Remains Won't Be the Same', Irish alternative rock band Otherkin increase speed with the release of 'On & On'.
The band say: "We were listening to a ton of French House before making 'On & On' and felt inspired to make a song for the dance floor. As we were approaching it from the context of being a guitar band, we thought it would be cool to break the song up with a huge riff, bringing the two worlds together. We paired it with a story of a guy we know who's a conniving, scheming weasel that'll never change his ways, regardless of what happens to him. This song is like one fist in the air and one middle finger in the air to him."
Produced and mixed by Jolyon Thomas (Slaves, Royal Blood), 'On & On' is the third banger-on-the-bounce from the band this year. 'All That Remains' enjoyed evening airplay support from BBC Radio 1, daytime spins in their homeland and unprecedented levels of playlist support from all the main streaming platforms.
Following an exciting Electrowerkz show in London, Otherkin are excited to be heading back out on the road in the UK this September.
Line Up
Dublin based grunge pop band OTHERKIN have marked their first 12 months of existence by playing slots at Longitude, Electric Picnic, Hard Working Class Heroes, Other Voices and Whelan's Ones To Watch. They've also followed up supporting NME cover stars Palma Violets and Parquet Courts by completing their own headline tour of Ireland in September. Since releasing their 'As A High' EP, OTHERKIN have been on the lips of critics and music-listeners alike. They've just put a busy summer behind them and are currently working on their latest release due February 2015.
Here are some words from the critics: - DublinConcerts.ie: 'Rising stars Otherkin marked their first Longitude appearance with a set that will not be forgotten easily by those in attendance. They're increasingly confident and they should be. Their music is excellent.' - Goldenplec: 'Longitude mainstage is definitely in their future'.
Four Culture magazine (US): 'Seldom is a band made that captures the darkest aspects of the human soul and merges them with our desires. Otherkin does this with every song, and ensnares your mind.'
State magazine: 'walking the line between accessibility and credibility with ease… Otherkin feel very much like the complete package already.'
The Last Mixed Tape: 'As A High is something of a high water mark for Otherkin. Showcasing a more uncompromising aspect of their music, demonstrating a considered approach that separates Otherkin from their peers.
Artrocker (UK): A must see band who bring optimistic rock back to the clubs
View Profile