Nice N Sleazy presents:
Scottish Beatbox Championships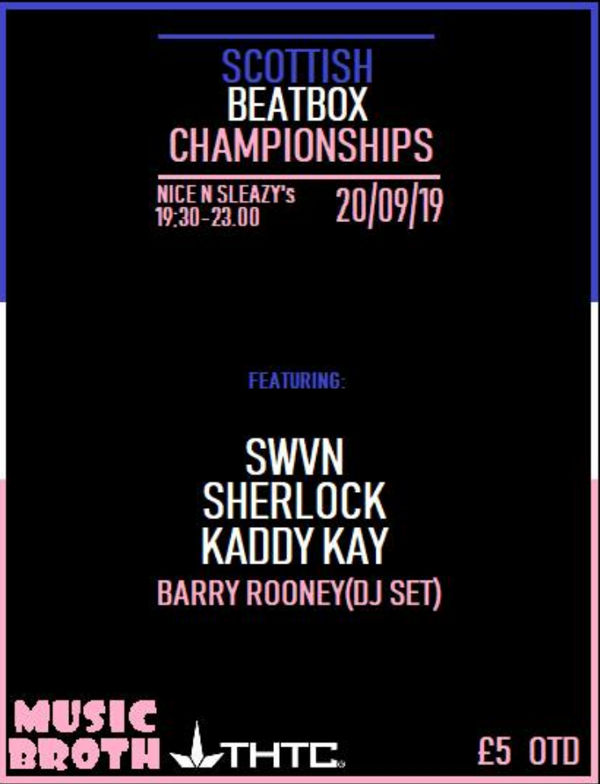 We are very excited to bring the first edition of the official Scottish Beatbox Championships. The event will take place @ Nice N Sleazys, Glasgow. 20.09.19. To celebrate the first official championships in Scotland, we have an exciting line up of not only beatbox battles, which will blow your mind away, but appearances from, Kaddy Kay, Sherlock and SWVN. Barry Rooney also on the decks.
The battles will take format of an elimination round and each beatboxer will get a chance to showcase their skills in front of a panel of judges. The elimination round battlers will get 2.00 minutes to showcase their skills. This will then be whittled down to four(semi-final) then the finale. Then 2x1.30 rounds for the semi and final battles
Battlers, Judges and the host will be announced on the lead up to the night, and the judges will also showcase their skills on the night. Keep your eyes peeled for updates. The winner of the battles will earn a place at the 2020 world beatbox championships, in Berlin held on the 29th and the 30th of May, at the Astra Kulturhaus. Prize money of £100 is also up for grabs, so bringing your A+ game is an essential.
If you would like to compete, send a 1 minute entry video to beatboxscotland@gmail.com. we will accept voice recordings, YouTube videos, soundcloud... anything that can record you beatboxing.
The night is priced at £5 entry fee, and tickets will be available on the door. So remember to get down early to secure a place. The venue is over 18's only so you must remember to bring your ID.
Lastly, We are proud to announce that THTC who are a hemp clothing brand based in London will be our sponsor for the event. They have given us materials which we will use as prizes for the public to get their hands on via a competition that we will run very soon. Music Broth who are a Music Instrument Library based in Govanhill will also be in association with the event, with money raised going towards the organisation. You can find more information about our partners below:
https://shop.thtc.co.uk/ https://www.musicbroth.org/
LET THE BATTLE BEGIN!!!
BBX SCO
Line Up
Scottish Beatbox Championships