Nice N Sleazy presents:
Clusterfuck Circus: Awgustin'!
Buy Tickets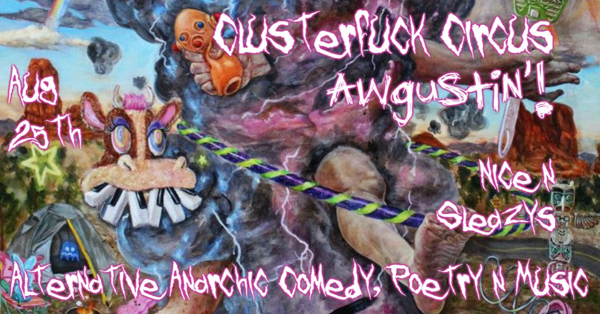 Clusterfuck Circus Presents: Awgustin'!
Altenative Anarchic Comedy, Poetry & Music
The Clusterfuck Circus returns with more chaotic cathartic comedy carnage! Expect the unexpected! No holds barred, No rules just mayhem!
https://www.eventbrite.com/e/clusterfuck-circus-awgustin-tickets-68283147733?aff=ebdshpsearchautocomplete
Clusterfuck Circus: Awgustin'!
Featuring: Ronnie Black Jim Hobbit Nob Stewart Richard Lala Gordon Powrie Helen McCabe Rory Spence Craig Black Jay Lynch Thomas Elvin Mikey Powrie John Gilmore Shell MC Sarah Dale David Nicoll Deky Millar Johnny Mowat Kenneth Copeland Eewigo the Mutant
And Host Oliver Pissed
Line Up
Clusterfuck Circus: Awgustin'!