Nice N Sleazy presents:
Songs in The Key of Springfield
Buy Tickets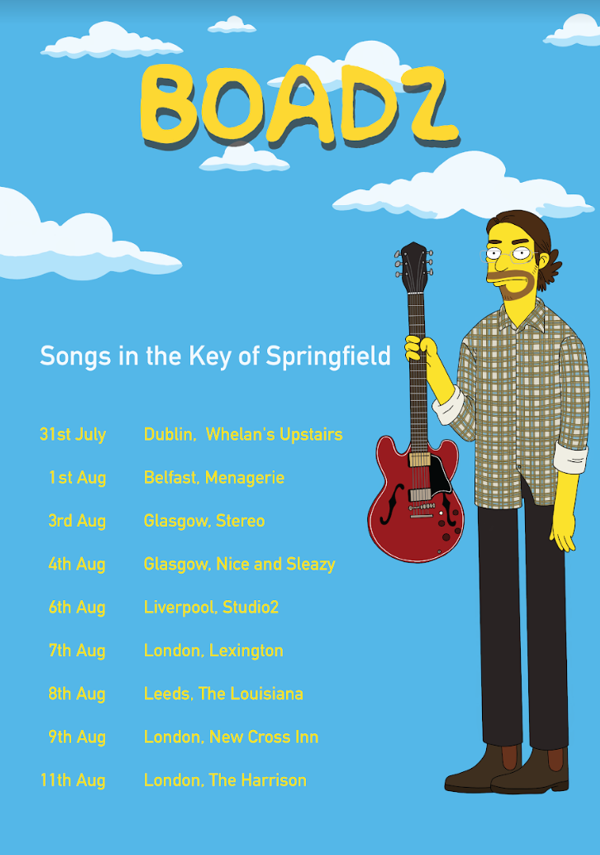 MATINEE SHOW!
The biggest 'Simpsons' themed tribute show in Australia is going international! Melbourne based guitarist and singer BOADZ ('Simpsons cover extraordinaire - Four Finger Discount) will be taking the wildly popular 'Songs in The Key of Springfield' on a run of 9 shows covering Ireland, Scotland and England, along with long time collaborator and fellow huge Simpsons nerd, drummer Leonard Barker. Together they will provide a night of entertainment frequently described by attendees as "the greatest night of their lives". No fan of 'The Simpsons' will want to miss this opportunity to sing along to all of their old favourites in a room full of like-minded winners and experience the full force of the nostalgia explosion. More information coming soon, stay tuned!
Dates: 31st July - Dublin, Whelan's Upstairs 1st Aug - Belfast, Menagerie 3rd Aug - Glasgow, Stereo 4th Aug - Glasgow, Nice and Sleazy 6th Aug - Liverpool, Studio2 7th Aug - London, Lexington 8th Aug - Leeds, The Louisiana 9th Aug - London, New Cross Inn 11th Aug - London, The Harrison
Line Up
Songs in The Key of Springfield