Nice N Sleazy presents:
Post Ironic State + Velveteen Riot + Messed Up Youth
Buy Tickets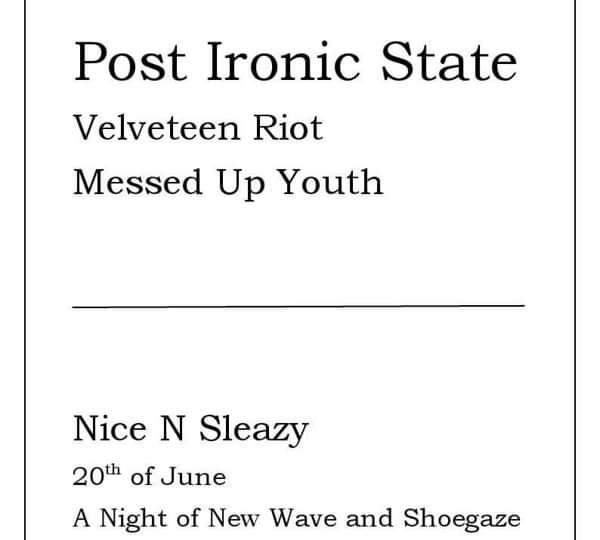 " POST IRONIC STATE are known for their awkward demeanour and intense stage presence; while a melodic rhythm section drives the music and eerie synthesisers warble and cry, moody and deep vocals call out for help. The band have roots in punk, new wave and electronic music, starting with nothing more than a monophonic synthesiser and an electric guitar, jamming in a bedroom, The band soon moved onto custom built modules and unique effects units, and will be making a high profile appearance at the first ever Forthside Festival. Post Ironic State will be releasing their debut single "What The Hell Is Going On?" ahead of playing a headline show at Nice N Sleazy. https://postironicstate.bandcamp.com/
VELVETEEN RIOT are a four piece alternative band from Glasgow. Honing their sound from the likes of shoegaze, indie rock and punk, Velveteen Riot display, "soft, delicate vocals, comforted and embraced by warming melodies and distant echoes". Velveteen Riot recently supported English indie band Wolf Alice and are playing shows in Glasgow and beyond. https://velveteenriot.bandcamp.com/
MESSED UP YOUTH are a punky-grungy trio from the bonnie banks of Fife. Taking inspiration both from traditional 90's grunge staples and punk bands throughout the ages, their sound is hard to miss. M.U.Y have played all over the shop, from house shows in St Andrews to the O2 ABC in Glasgow, and every time they'll leave you wanting more. https://messedupyouth.bandcamp.com/ "
Line Up
Post Ironic State + Velveteen Riot + Messed Up Youth