Nice N Sleazy presents:
Spit Mask & Statiqbloom with guests Nation Unrest (feat Joshua Smith of Chain of Flowers & Callum Graham of Natural Assembly)
Buy Tickets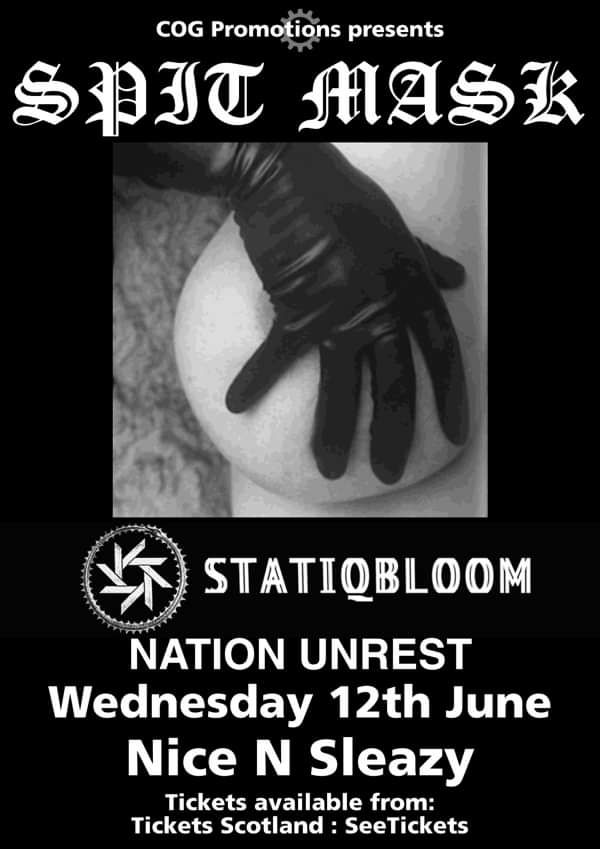 Spit Mask is an industrial project residing in Berlin, Germany, consisting of Bryan and Rachel Jackson, both on vox and electronics. The synth driven pair mix early industrial with modern machines to create a torrent of hate, love, and sex. New album coming soon on Aufnahme + Wiedergabe.
Statiqbloom is the brainchild of Fade Kainer, a German-born, Brooklyn-based instrumentalist best known for his stints in Tombs and Theologian. Originally conceived in 2013 as a solo endeavor, the EBM-trafficking operation has since expanded into a two-man enterprise, following the enlistment of producer Denman C Anderson.
Nation Unrest is made up of Joshua Smith (Chain of Flowers) & Callum Graham (Natural Assembly).
Line Up
Spit Mask & Statiqbloom with guests Nation Unrest (feat Joshua Smith of Chain of Flowers & Callum Graham of Natural Assembly)