Nice N Sleazy presents:
Retronic Northern Soul Special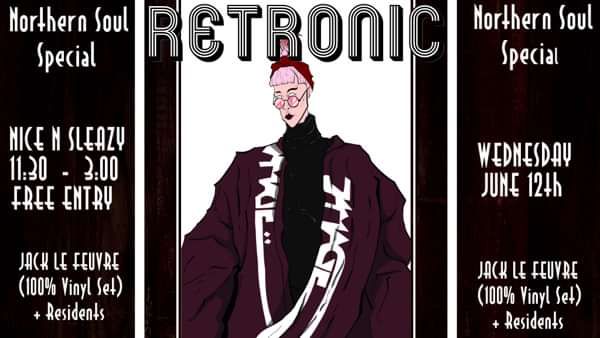 Retronic is back babyyyy to Nice N Sleazy for a special night. For this one, we've invited none other than one half of Faith, and co-creator of LeFreak Records : Jack LeFeuvre for a special 100 % Vinyl Northern Soul extravaganza.
Get ready for some of the best records in all of the land, as this Dundonian connoisseur brings his ace selection to make you boogie woogie all night long.
Of course don't forget our residents : Frankie Elyse and PHAT, who will provide their usual bonkers selection of 50 & 60s hits, to make you twist n shout the way god intended you to.
FREE ENTRY Wednesday 12th June Nice N Sleazy Glasgow 23:30 - 3:00
Line Up
Retronic Northern Soul Special