Nice N Sleazy presents:
Andy Cooper (Ugly Duckling) + Red King + Mr Goodbrother + Bigg Taj Vs Spee Six Nine
Buy Tickets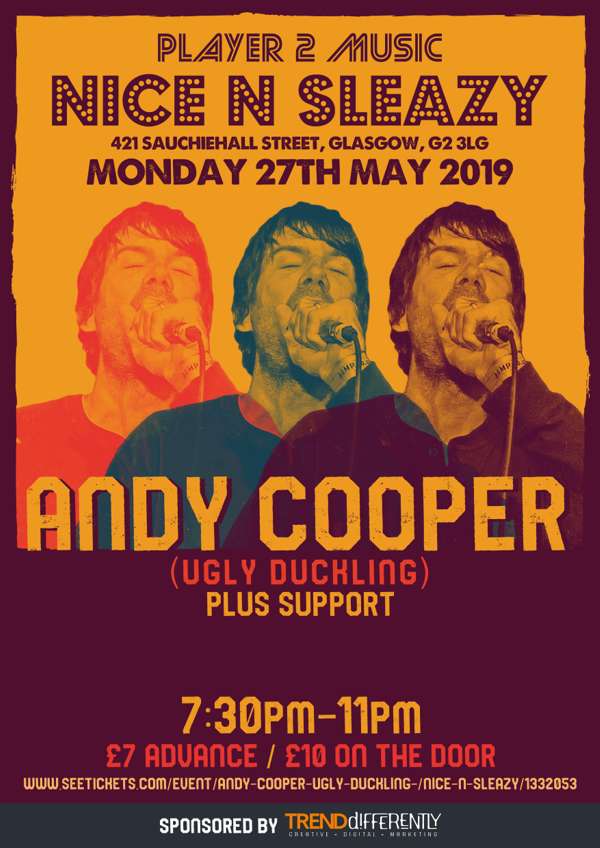 Andy Cooper is an accomplished vocalist, songwriter, producer and performer who hails from and resides in Long Beach, California. After graduating from Poly high school in the mid-1990's, Andy helped form and produce the Hip-Hop trio Ugly Duckling which, over the span of 20 years, released six albums and frequently toured the globe; more than 40 countries stamped in the passport. In 2015, he launched a solo career that quickly gained momentum from his debut 'The Free EP' and continued with a consistent supply of new music which, unbelievably, included eight 7" singles where he was the featured lyricist. Cooper has also been no stranger to the live stage as a solo performer with six European tours under his belt in the last two and a half years. Andy Cooper's debut LP 'Room To Breathe' (Unique Records) was an Underground Rap top-seller in 2016 and his latest single 'The Get Down' (with Djar One) reached the number one spot on Juno Record's Hip-Hop chart in September of 2017. In between those releases, Andy was a featured vocalist and songwriter on The Allergies' albums 'As We Do Our Thing' and 'Push On' where he contributed to seven tracks, many of which received substantial BBC and Euro radio airplay. He also performed live on- air sets for Dermot O'Leary's BBC Radio 2 program, the world-famous Craig Charles' Funk and Soul Show and Radio 4's 'Loose Ends'. Earlier in 2017, Andy composed two library collections for the London, commercial sync- licensing company Audio Network and many of the tracks have been employed in Television shows, advertising campaigns and widespread internet promotions. During this same span, Cooper worked with the award- winning German director Daniel Ruczko ('Bipolar') on four music videos ('Room To Breathe', 'Rock Rock', 'Love That I'm In' and 'The Main Event') and their clip for 'Rock Rock' was featured on the BBC Four TV morning program 'Sunday Brunch'. Andy Cooper has no plans to cut back on his output. 'The Layered Effect' was released on Rockafort Records in January of 2018. The LP includes 12 high-powered, classic Hip-Hop tracks which showcase Cooper's incredible vocal talent and funky production skill. The album also presents Andy collaborating with Dutch Rap vocalist Blabbermouf and the legendary Canadian MC Abdominal. Support on the night comes from Red King and Bigg Taj Vs Spee Six Nine alongside DJ Mr Goodbrother.
Line Up
Andy Cooper (Ugly Duckling) + Red King + Mr Goodbrother + Bigg Taj Vs Spee Six Nine