Nice N Sleazy presents:
Hibushibire (japan) + Dead Otter + The Contact High
Buy Tickets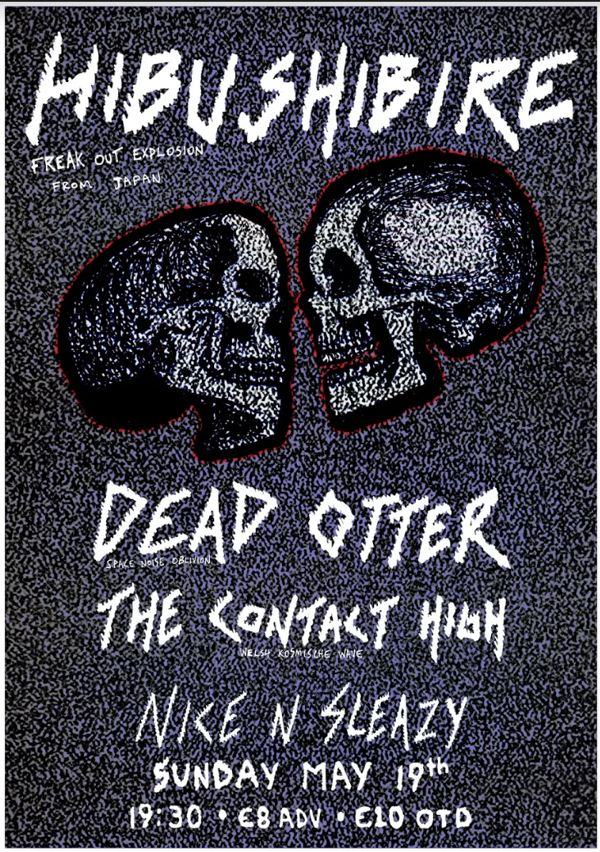 Hibushibire is a Japanese hard psychedelic freak out rock band which formed in 2012. The term "Hibushibire" is Japanese old porno slang which translates as 'Freak out orgasm!' - a term which is also the title of the bands' first LP available via Riot Season Records.
The present members are Chang Chang (freak out guitar/Vocal) who makes shred guitar his strong point and is given the nickname Psychedelic young nobleman, bass player 821 (reads Hani/freak out Bass/Chorus) who is an active part in various bands and famous improvisational drummer Ryu Matsumoto (freak out Drums).
Kawabata Makoto of Acid Mothers Temple described Hibushibire as the advance party of a next generation of psychedelic rock band - expect an unforgettable explosive wave of guitar wailing underpinned by a hard and heavy rhythm section.
https://youtu.be/YZWATIBc2bk https://hibushibire.bandcamp.com/ https://www.facebook.com/hibushibire/
Dead Otter :
Explorative Glaswegian space-heads Dead Otter are here to take you to worlds unknown. The band have been operating since the heady days of 1994 and take inspiration from Black Sabbath, Hillage, Groundhogs and Hawkwind. Their music is led by a twin guitar attack from John Riddell and Omar Aborida (The Cosmic Dead) whilst grounded by the electric rumblings of a rhythm section featuring Gavin Riddell on Bass and Scott Falconer (ex-Los Destructos) on drums. Their sound warps blissfully from drifting improvisation to full on space noise oblivion.The 'Bridge of Weird' LP is out now via The Black Country's finest celestial-dredging behemoth Riot Season Records.
http://www.riotseason.com/REPOSELP069.htm https://dead-otter.bandcamp.com/ https://www.facebook.com/deadotterband
The Contact High :
The Contact High is a shape-shifting lineup from the border of Wales, emerging from obscurity to disperse droning psychedelic and krautrock inspired walls of noise. Their sets consist of wandering arrangements, squalls of noise juxtaposed against moments of tranquil soundscape and rhythmic drones.
Line Up
Hibushibire (japan) + Dead Otter + The Contact High