Nice N Sleazy presents:
Dammit Presents : Dammit-Fest 2019
Buy Tickets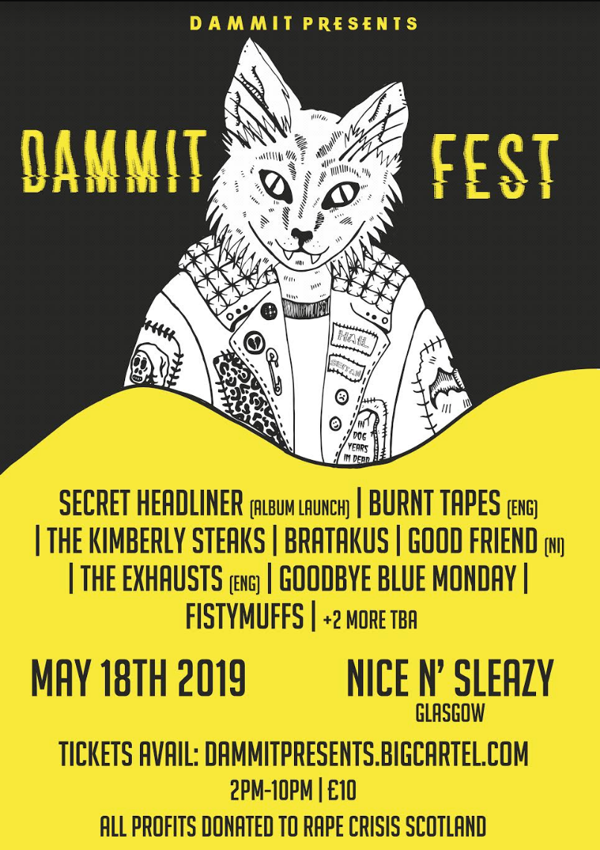 Dammit Presents: Dammit-Fest 2019.
*** ************* (secret headliner tba in April, album launch) Burnt Tapes (eng) The Kimberly Steaks Bratakus Good Friend (ni) The Exhausts (eng) Goodbye Blue Monday Fistymuffs +2 more tba
All profits from this fest will be donated to Rape Crisis Scotland. There will also be a stall on the day. Be sure to donate anything you can, buy merch from bands and have an awesome time. Please respect everyone around you, the venue and the bands. This is a safe space for all. Have fun, dance all day.
May 18th 2019 Nice N' Sleazy 2pm-10pm £10 18+
Buy Tickets: dammitpresents.bigcartel.com
Please note: these are NOT physical tickets. An E-Ticket receipt will be sent upon purchase and there will be a list of all purchased tickets on the door at the gig. If you need to change any info, please email: dammitpresents@gmail.com
Poster design by Rachel Watson.
Line Up
Dammit Presents : Dammit-Fest 2019