Nice N Sleazy presents:
A Night for Caspar Sallows: Remembering Ryan : Bluebirds + Black Clyde and the Tube Disasters + Bight + GRAVELLE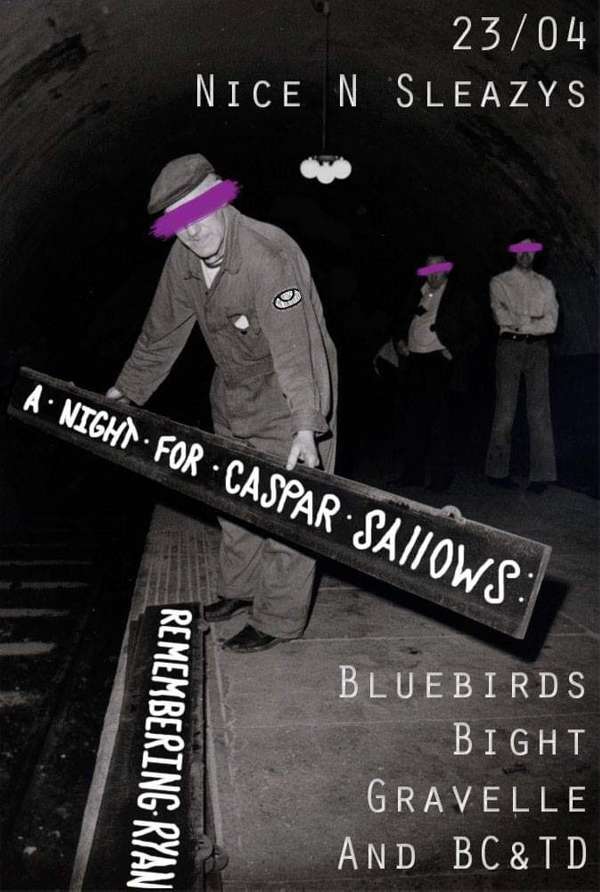 Ryan was the guitarist for Black Clyde and the Tube Disasters, a band with a post-punk infusion of anarchy and mockery of the way things are - much like Ryan. The night will include performances by them and music from three of his favourite bands.
Pronounced like the dirt. GRAVELLE bring a beautiful cacophony to delight all six of your senses. Brace your eyes, ears and other orifices for noise.
Bight are a 3 piece band based in Glasgow Scotland. With a folk sound they mainly play atmospheric and sad indie music. The themes of their songs can vary from environmental issues or philosophical lyrics to themes of heartbreak.
Bluebirds are an Edinburgh/Glasgow based band, with an eclectic sound in garage and psychedelic post-industrial punk.
Line Up
A Night for Caspar Sallows: Remembering Ryan : Bluebirds + Black Clyde and the Tube Disasters + Bight + GRAVELLE