Nice N Sleazy presents:
Ghostbaby + Slix + Guests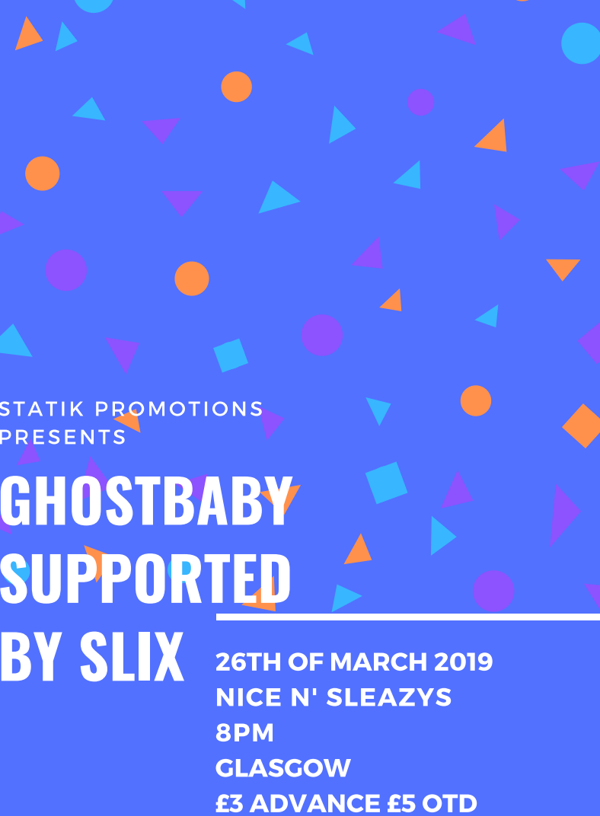 Ghostbaby
Ghostbaby are a four piece indie-punk band from Paisley who have spent the last year gigging Glasgow venues honing their live show. Having been described by The Skinny as "adolescent grunge reminiscent of Blur", they draw inspiration from the likes of Pixies and Lou Reed. Ghostbaby conjure a sweet & sour mix of luscious songwriting with abrasive guitar mysticism to melt your face off.
FB: https://www.facebook.com/GHOSTBABYGHOST/
BandCamp: https://ghostbabyghost.bandcamp.com/album/the-golden-glow
IG: https://www.instagram.com/ghostbabybabyghost/?hl=en
Slix
SLIX are a 5 piece from Inverclyde, Scotland. Having formed after Robbie Peden (vocals), Niven Lowrie (guitar), Paul Greenan (guitar), Harvey Todd (bass) and Cameron Hyslop (drums) met through school and college, they take on their wide range of influences from indie rock, hip hop, punk and jazz in order to create a jangly, laidback sound.
FB: https://www.facebook.com/slixuk/
Line Up
Ghostbaby + Slix + Guests