Nice N Sleazy presents:
Up in the Clouds II: Zibaluni (In aid of First Aid Africa)
Buy Tickets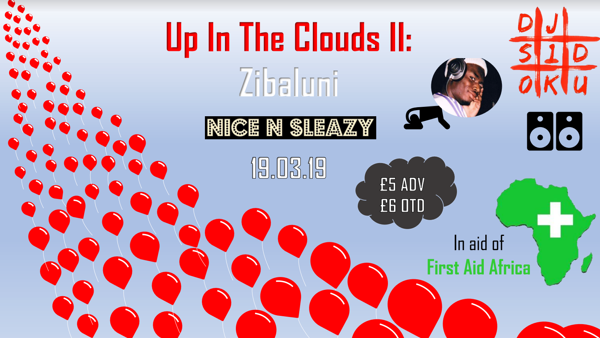 Oh my god! They didn't book David and Izzi again did they???!!! Get ready for the night of all nights in Nice'N'Sleazy ft. special guest DJ Sadik!
Tired from all those essays you've not been writing? Sad that you're going to have to revise for all those pesky exams soon?
Worry not, we've got you sorted. Come on down to Nice n Sleazy on March 19th to forget all about those silly deadlines. Plus you get to feel all gooey inside because you're helping us raise funds for First Aid Africa, a brilliant sustainable development charity focused on helping rural communities deal with acute injuries.
A house/disco/funk charity sort of boogie that is guaranteed to leave you smiling.
Doors 11.30 PM Tickets £5 adv/£6 OTD
Line Up
Up in the Clouds II: Zibaluni (In aid of First Aid Africa)