Nice N Sleazy presents:
Summit + Probably Taken + Gravelle + Great Red Shark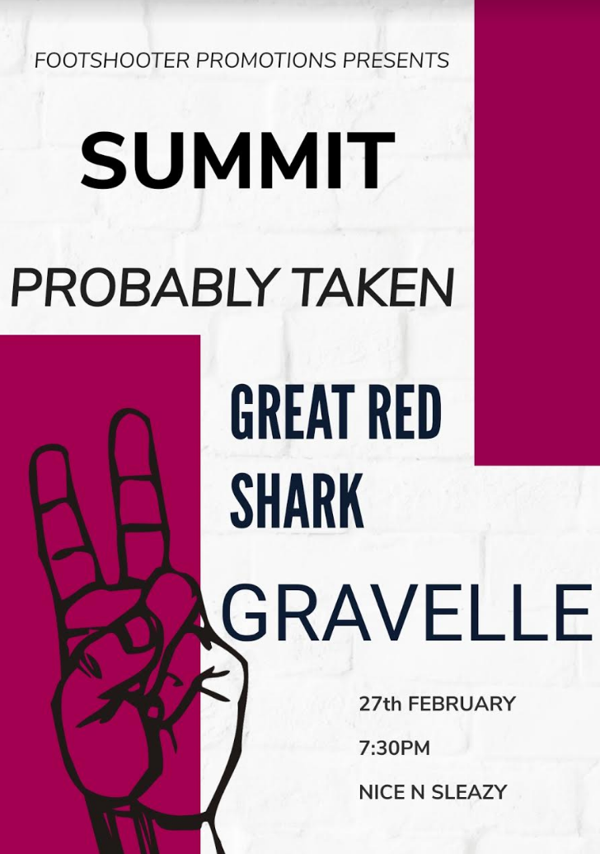 Summit - The most exiting thing to come out of Paisley since Paisley Pattern, Summit are something to behold. This 4 piece alt rock outfit are sure to reach the summits of success with their unique style of music.
GRAVELLE make their return to the stage bringing a beautiful cacophony to delight all six of your senses. Brace your eyes, ears and other orifices for noise
Probably Taken are a 4 piece Alt Rock band from Glasgow - The Gordon Ramseys of Rock'n'Roll
Great Red Shark - Great Red Shark are students of classic rock, early punk and new wave, and modern indie. The band began making music together 6 years ago back in Stirling.
Their lyrics speak of ill-fated romance and self doubt, while providing anthemic choruses and catchy riffs. In other words, music you can mosh or weep to.
Line Up
Summit + Probably Taken + Gravelle + Great Red Shark