Nice N Sleazy presents:
BassFace + SambaYaBamba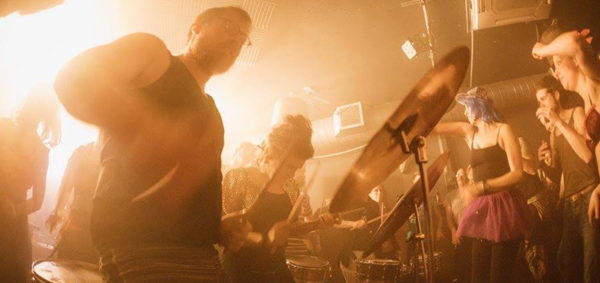 Two massive bands and one dimply DJ meet up in Glasgow for one hell of a night of beats, collaborations and jumping about!
Expect Brass, Synth, Strings, Vocals, and A LOT OF DRUMS!!!!
BassFace Drums and drums and drums and BASS - through from Edinburgh for their Glasgow Debut!
That face you make when the beat drops.... with 20 live drummers! Plus synth, vocals, electric double bass, strings and horns, bringing you banging tunes to jump about to.
SambaYaBamba Glasgow's very own musical melting pot! With thunderous drums and roaring brass, and an eclectic mix of of sexy rhythms, this band is ready to drop the worldly beats on all your heads... Come prepared to move!
Plus dance choons and world grooves from our own DJ Dimples!
Doors 7.30 - get down early to catch both bands! Curfew: 10.45.
Tickets are a bargain at only £5 for two live bands. Book in advance to guarantee yours: https://www.seetickets.com/event/bassface-and-samba-ya-bamba-at-sleazy-s/nice-n-sleazy-glasgow/1304271
Facebook Event: https://www.facebook.com/events/2229371413971727/