Nice N Sleazy presents:
Galoshins Album Launch + Acid Cannibals + Tights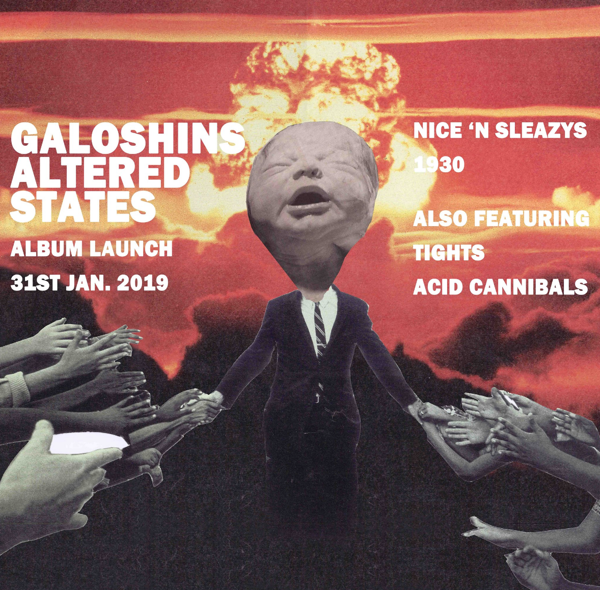 "We are delighted to confirm our .'Altered States' album launch. Looks like Louis Theroux beat me to the name but, naw - we've been sitting on this record since last summer. Last couple of years have been quiet'ish preparing the tunes but after road testing at gigs, we decided to take the plunge. We set up at 'The Hub' music studio in Gourock, with the bold Stevie Cossar at the controls on the sound desk. A lot of the tweaking and development of our music comes through the process of playing live, to find out what works and what doesn't - this night is a celebration and thankyou, to those who support, to those who have given us a slot to play and to those who have helped Galos along the way to completing the album - it would be very nice if you could make it.
Supporting on the night are our very good friends 'Tights' & 'Acid Cannibals' which just caps it off for me.
Non! Stop!
ACID CANNIBALS Straight off the back of their 'Horny for Tommorrow' Ep tour. Two worlds collide, unstoppable guitar/drums duo and best people.
TIGHTS Dee-lighted to have 'Tights' playing - they blew my mind at Doune the Rabbit Hole 2018 and have followed up at their last couple shows. 5 piece live performance experiment, always something different. "
Line Up
Galoshins Album Launch + Acid Cannibals + Tights