Nice N Sleazy presents:
SLIME CITY + Closet Organ + MoonRunners + Tupper Werewolf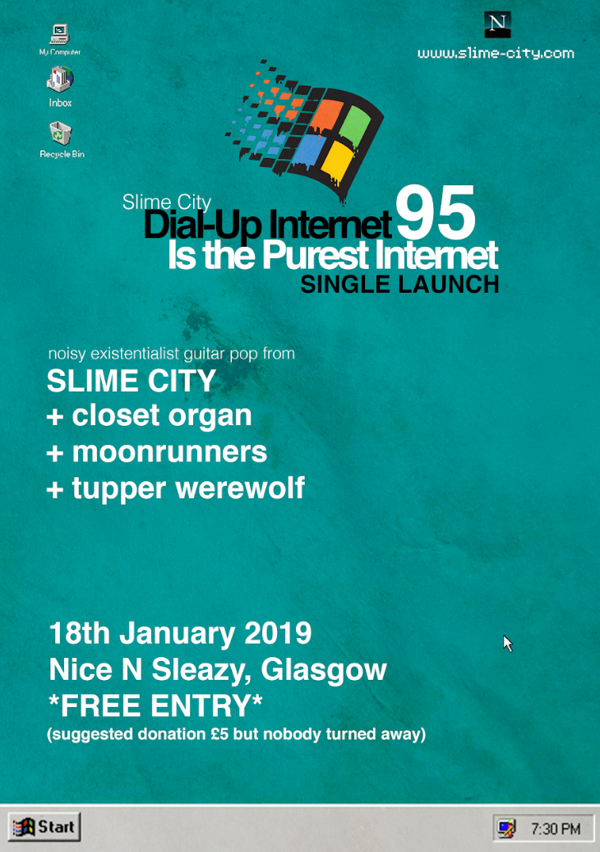 https://www.facebook.com/events/2102354043412055/
SLIME CITY, Glasgow's noisy existentialist guitar pop shame, launch their brand new pointless piece of physical media: DIAL-UP INTERNET IS THE PUREST INTERNET.
FREE ENTRY with suggested donation of £5.
SLIME CITY : Formed in Glasgow, Scotland and playing fast existentialist nerd rock for people who like sighing but also fighting, SLIME CITY released their first single LESS JOOLS MORE TOP OF THE POPS in 2018, which Dork called their 'unofficial anthem'.
Closet Organ : Obtuse grunge pish from good Glasgow boys
MoonRunners: Fast great garage rock two-piece
Tupper Werewolf: Exciting bleeps!
Line Up
SLIME CITY + Closet Organ + MoonRunners + Tupper Werewolf