Nice N Sleazy presents:
Happy Winterfest : Spee Six Nine + Pete & Kev + Barry & Blair (DJ set) + Beatbox Battles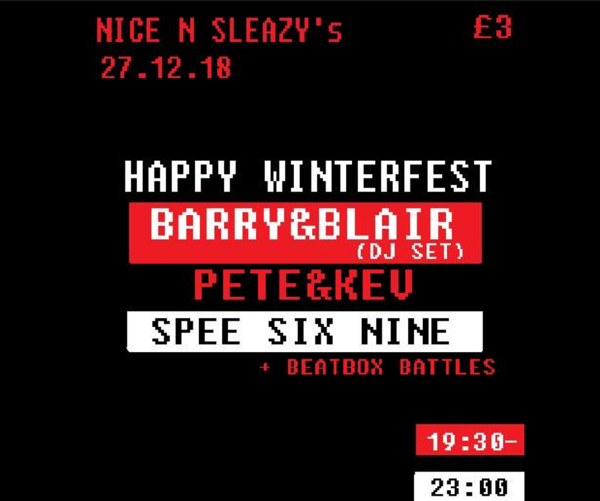 Happy Winterfest folks, It's that time of year again.
Santa's just arrived early, and he's told me that he wants to have a party on the 27th of December of this year@ Nice N Sleazy in Glasgow, 421, Suchiehall Street. Weeehey. Just aff the phone to him there.
He says 'I know that's no early because crimbo is 25th, but I've arrived early to tell use about it'.
Line Up:
19:30-20:00 Showcase/Beatboxing Battles
These lads have previously won competitions in Glasgow, and reached top 32 of the UK Beatbox championships, as well performing around Glasgow. They know their stuff. Get yourself down early to witness this. You wont regret.
20:00-20:30 Spee Six Nine
Spee Six Nine is a Glasgow based Hip-Hop artist from Yorkshire, and is certainly an experienced player in the game. He has supported some of the most legendary Hip-Hop acts such as Method man & Redman, GZA, Killa Kela, Immortal Technique, Dead Prez, Dilated peoples and many more
20:30-21:00 Pete & Kev
This pair have certainly caused a bit of a ruckus in Glasgow. Regularly busking, and headlining gig's at St. Lukes, Audio, Classic Grande and many other venues in and around Glasgow, worth the watching with their unique blend of Jazz, Soul and Disco.
21:00-23:00 Barry and Blair
Barry and Blair are promising new talent that have started to perform within the house and techno music circuit. They will be headlining and will also be spinning your favorite tracks from from 9 onward to warm you up for club hours.
Cheap night and a great venue, Have fun.
Happy Winterfest to all.
Also remember Over 18's only, so bring your ID encase you look 15 but are actually 30.
£3 OTD
PS... he knows when your sleeping and he knows when your awake, so best behavior from now until and before the event. .
Line Up
Happy Winterfest : Spee Six Nine + Pete & Kev + Barry & Blair (DJ set) + Beatbox Battles