Nice N Sleazy presents:
Swym + Fiskur + Rolo Greb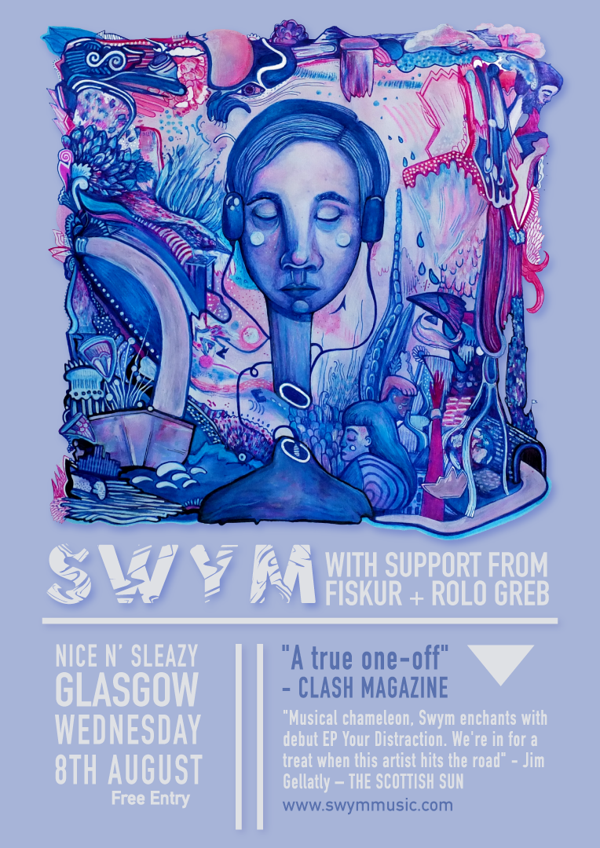 SWYM Swym is the conception of songwriter, producer and multi-instrumentalist, Nassif Younes. The 'odd rock' 5-piece from Aberdeen combine psychedelic textures with indie pop sensibilities and carefully crafted lyrics which are brooding but always laced with wit and glimmers of optimism. After a successful debut EP release which enjoyed press coverage from Jim Gellatly, CLASH Magazine and The Skinny to name a few, the Aberdeen quintet is back with their new single "I Hate You Because" which will be released on August 10th , 2018.
"A true one-off" – CLASH Magazine "Musical chameleon Swym enchants with debut EP. We're in for a treat when this artist hits the road" - Jim Gellatly – The Scottish Sun
http://www.swymmusic.com/ https://www.facebook.com/SwymMusic/ https://open.spotify.com/artist/67meDNPwSHXypNWyhp1Neg https://www.youtube.com/channel/UCsS5Q5bt-oYhq7WxGubuntQ https://soundcloud.com/swym-artist
ROLO GREB "Glasgow (UK) based Tom Williams is on a perpetual journey, caught deep in an infinite exploration of sound and colour."
https://www.facebook.com/rologreb https://twitter.com/rologreb
FISKUR
Fiskur is a new collaborative project formed by Glasgow singer/songwriter Ross Clark and Frightened Rabbit multi-instrumentalist Andy Monaghan and Washington Irving/John Knox Sex Club drummer Chris McGarry. The songs come from many different places and perspectives, from smoggy nights staring at the Shanghai skyline, to hazy afternoons fishing on the River Kelvin. The motivation is to create music that excites, not distracted by the trappings of making music in our modern world.
Line Up
Swym + Fiskur + Rolo Greb