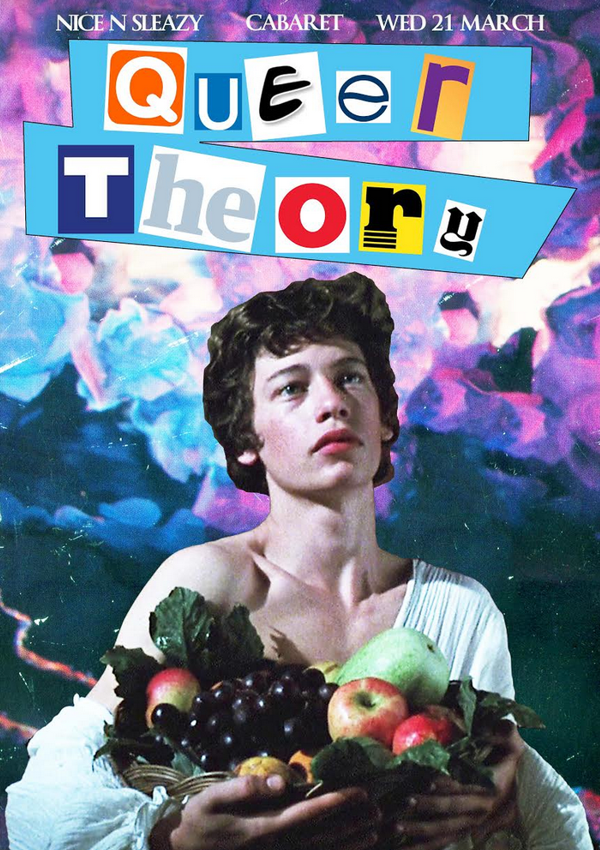 £5
A queer cabaret show combining comedy, live music, drag and performance art.
Hosted by James Primmer and featuring comedy from Scott Agnew and Derek Mcluckie, live music from satirical duo Alternative Cracks, resident band Black Doves and musical saw maestro Markee de Saw, plus performances from Liz Seddon and GLORIA!
Scott Agnew, winner of Icon Entertainer of the Year 2017, Best Show at Scottish Comedy Awards and Attitude's 94th Most Eligible Gay Bachelor in the world, returns to Queer Theory for a Glasgow International Comedy Festival special.
"No one has anecdotes quite like Scott Agnew. His stories of bizarre, drug-fuelled sexual excess make Russell Brand look like 'In the Night Garden'...Dave Allen for the Grindr Era." Chortle
Derek Mcluckie was winner of the deepest throat in a Paisley bog award in 1987 and runner up to Rita Oral for the same in 1999
Alternative Cracks: The Trojan Horse of cabaret performing rejigged classic songs and saucy original parlour music to subtly demolish your perspective on the modern world
SOCIAL
Scott Agnew
Twitter: @scottagnew
YouTube: https://www.youtube.com/watch?v=J0IvhX6oMNs
Instagram: @agnewscott
Derek McLuckie
YouTube: https://www.youtube.com/watch?v=J0IvhX6oMNs
Alternative Cracks
www.soundcloud.com/alternativecracks
Facebook: https://www.facebook.com/alternativecracks/
Black Doves
www.instagram.com/blackdovesmusic
Twitter: @blackdovesmusic
Markee de Saw